Egg White Brioche Frittata with Morel Mushrooms and Wild Ramps
Makes 4 appetizer servings
Frittata is a terrific dish because it can be put together very quickly, and it can be eaten at any time of the day. While it is simple to make, a frittata can actually be quite gourmet, if it is made with a quality, unique, and seasonal combination of ingredients.
In this frittata, the focus is morel mushrooms, with their unique earthy and nutty flavor and seasonal spring flare, especially in combination with garlicky wild ramps. Brioche brings a slightly sweet taste that pairs beautifully with both morels and ramps. The egg whites result in a lovely puffy texture as well as keep this frittata light.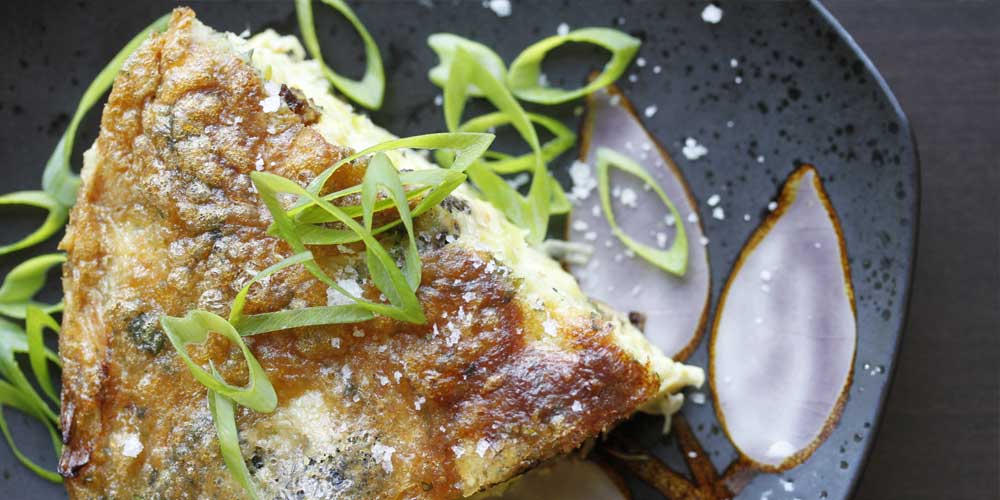 INGREDIENTS
1 tablespoon oil

1 tablespoon butter

About 2 cups fresh morel mushrooms, cleaned and sliced

Salt to taste

6 egg whites

2/3 cup brioche, sliced in 1/2 inch cubes

2 tablespoons sour cream

4 wild ramps, mostly white and purple parts and some green, chopped (could substitute green onions, leeks, or a blend)

Salt, pepper to taste

1 tablespoon oil

1 tablespoon butter

3-4 tablespoons shredded yellow and white cheddar

1 cup wild watercress (could substitute cultivated cress or arugula)

1 teaspoon Extra virgin olive oil

1 teaspoon Champagne vinegar
DIRECTIONS
1
In a bowl, combine egg whites, sour cream, brioche cubes, and ramps. Season with salt and pepper. Let the mixture sit for about 10-15 minutes.
2
Meanwhile, heat oil and butter in a skillet. When the butter melts, add morel mushrooms, season with a little bit of salt. Sauté, stirring occasionally, until the mushrooms are cooked through, for 3-4 minutes. Cool slightly, then add to the egg white-brioche mixture, reserving just a few larger morel slices.
3
In an 8-inch skillet, heat butter and oil. Pour in the egg white brioche morel mixture and spread it evenly. Cook on one side for about 1 minute or until set, flip, and take off the heat.
4
Sprinkle with cheese and broil until the cheese melts and the top of the frittata is golden.
5
Sprinkle wild watercress with extra virgin olive oil and Champagne vinegar. Divide between four plates.
6
Slice the frittata in quarters and place each slice on top of the wild watercress. Top with a reserved slice of morel.
Recipe Development & Photography by Natasha Price, 5 Star Foodie