A kitchen gadget-aficionado, expert bread baker and all around delicious blogger, Donna from Cookistry is a long-time friend of Marx Foods. She mixes the scientific with the whimsical in her culinary creations and she's always game for our recipe contests. We love this simple, yet elegant recipe. Thanks for sharing with us, Donna!

Appetizers don't have to be elaborate to be stunning – and delicious. This one uses very few ingredients, and you don't need any special tools, either. A sharp knife is sufficient for slicing the vegetables, but if you have a mandoline it makes the job faster and easier, and your slices will be more even.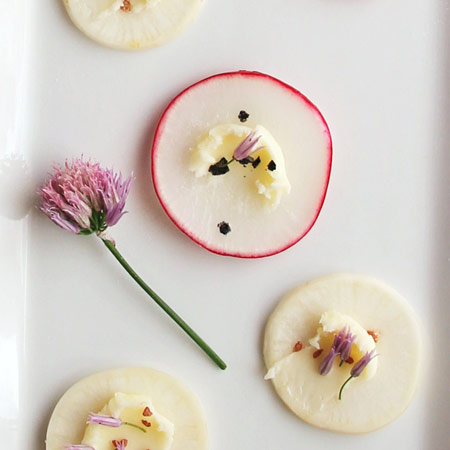 If you're just slicing a few radishes, the difference in prep time between knife and mandoline isn't going to be much. But if you're preparing these for a big party, the mandoline will make the slicing much faster. This recipe is enough for a family dinner or a small party – if you're good at slicing, you'll get 6-8 slices from each radish or turnip, depending on their size and how thinly you slice.
If you haven't tried hakurei turnips yet, seek them out. They're not like the turnips that need to be cooked – these are sweet and tender and absolutely amazing when they're raw. They're less sharp than radishes, so if people don't like that "bite," steer them towards the turnips.
If you can't find the turnips, then it's perfectly fine to use just radishes. If you can find different colored radishes, it will make a more interesting presentation, but the standard magenta-skinned radishes with the crisp white interior are plenty interesting all on their own.
The second ingredient is butter. I suggest unsalted. And choose a good brand. There aren't many ingredients used, so splurge on the good stuff.
And then we have the salt. I chose red and black Hawaiian salts for the color. A nice white flake salt would be great, too. You're only going to use a pinch – just a few grains for each slice of radish, so splurge a little here, too.
Chive flowers are one of my new best friends. They're so pretty and chances are that the color will be a good accent for any food you choose. Other herb flowers would work just as well. I like thyme flowers a lot, or you could choose a pretty microflower.
Radishes (and hakurei turnips) with Butter and Salt
2 radishes
2 hakurei turnips
1 tablespoon unsalted butter, slightly soft
Salt
Chive flowers
Slice the radishes and turnips thinly using a sharp knife or a mandoline.
Add a small smear of butter to each slice. You could also pipe the butter if you prefer. But just a small amount.
Top each with just a few flakes of salt, then tear apart one of the chive flowers – they are actually like a bundle of smaller flowers. Scatter the flower bits on the radishes.
You can use additional flowers as garnishes on the serving plates.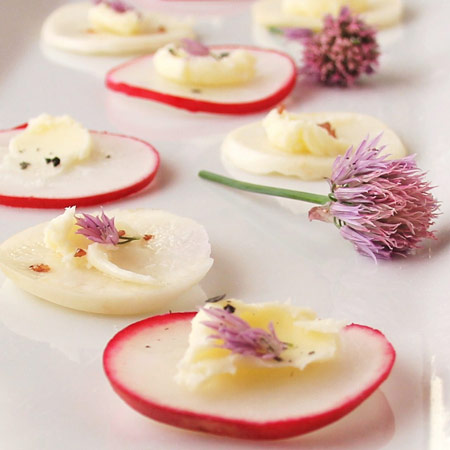 _________
Browse More:
Edible Flower Recipes
Root & Rhizome Recipes