RABBIT RAREBIT BURGER WITH ONION JAM
Makes 4 Servings
WINE PAIRING
American Amber Ale
Welsh Rarebit (or Rabbit) is classic pub food with 18th century origins. A meatless dish of cheese sauce over toast, rarebit never contained rabbit and quite likely didn't even originate in Wales. So, we thought we'd take some liberties and actually put some rabbit in the rarebit. Thus, the Rabbit Rarebit Burger was born. Because rabbit is very lean, you'll want to add some fattier meat, like pork, for best results. Onion jam provides a sweet and tangy counterpoint to the rich cheese sauce.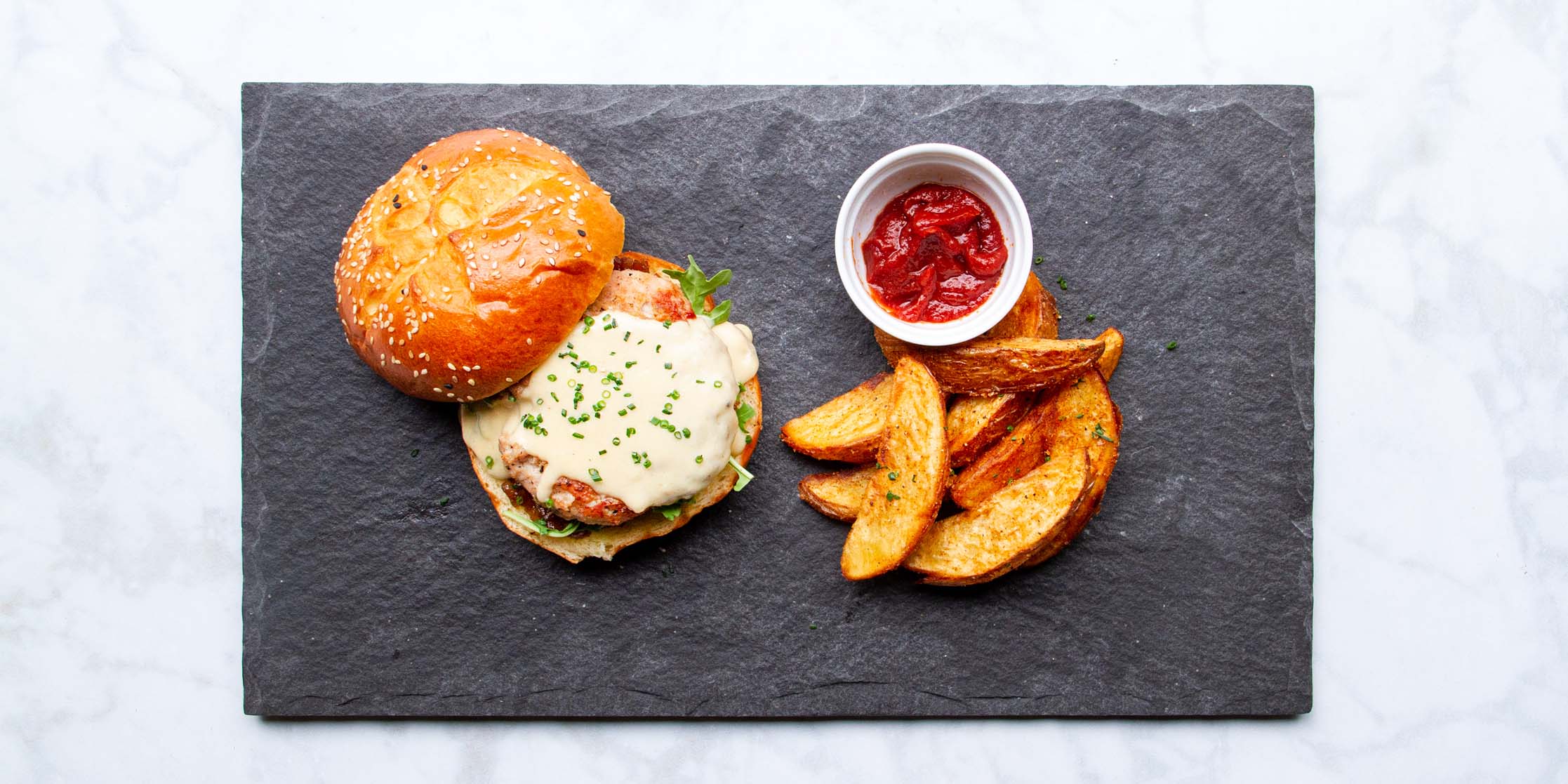 INGREDIENTS
FOR THE ONION JAM:

1 yellow onion, small dice

1 tbsp butter

2 tbsp brown sugar

2 tbsp sherry vinegar

2 tbsp sherry wine
FOR THE CHEESE SAUCE:

1 ½ tbsp unsalted butter

1 ½ tbsp all-purpose flour

1 cup whole milk

1 fresh bay leaf

Kosher salt

Freshly ground black pepper

4 oz finely grated sharp white cheddar
DIRECTIONS
2
Once onions are caramelized, add the remaining ingredients. Increase the temp to medium high and cook until the liquid is almost to a jam-like state. A little liquid is fine as it will thicken as it cools.
3
In a saucepan over medium heat, make a
blonde roux
with the flour and butter. Add in milk slowly, stirring constantly to keep from burning.
4
Once the milk is fully incorporated, add the bay leaf, reduce heat to low, and cook for 30 minutes. This allows the bay flavor to infuse the milk. Stir occasionally to make sure there is no burning on the bottom of the pan.
5
Remove the bay leaf and gradually whisk in the cheddar. Season with salt and pepper and keep warm.
5
Combine the rabbit and pork until they are thoroughly mixed. Blend well to slightly emulsify. Form into four 7 oz. patties. Season each generously on both sides with salt and pepper.
5
Grill over medium direct heat for about 3 minutes per side until the patty has reached an internal temp of 155°F. Allow patties rest on a clean plate for a couple of minutes.
5
Grill the buns. Assemble the burgers with onion jam and arugula below each patty, and cheese sauce on top.
Browse More: