Rabbit Paella with Artichoke, Olives & Piquillo Peppers
Makes 6 Servings
WINE PAIRING
White Burgundy
This paella pairs tender rabbit meat with artichoke, bright green castelvetrano olives, and fruity piquillo peppers for a blend of rich flavors and brininess that keeps the dish lighter.
Braising rabbit legs sous vide makes them exquisitely tender – we highly recommend it! However, you could also traditionally braise them until tender, then shred the meat for use in this recipe.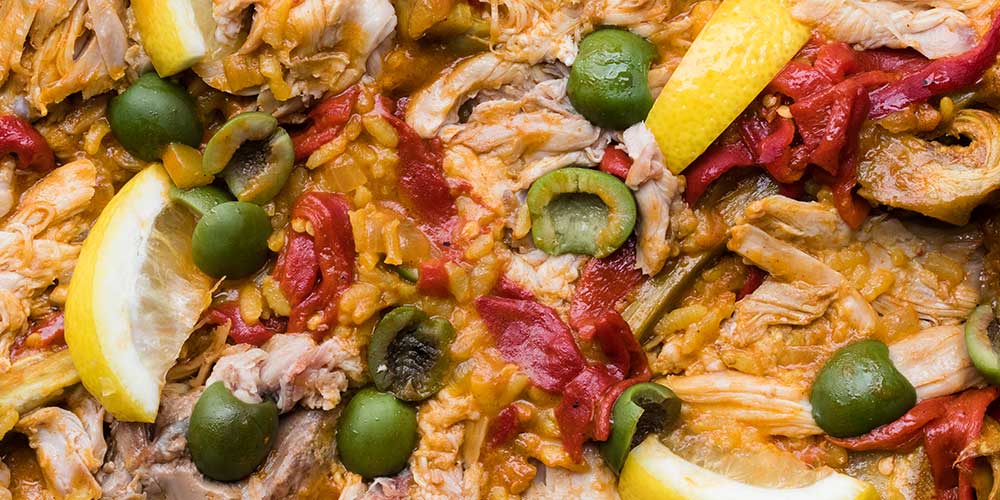 INGREDIENTS
1 large Artichoke

3 cups Valencian Paella Base

½ cup Chicken or Vegetable Stock or Water

½ tsp Saffron Threads

¼ cup Duck Fat (could substitute oil)

½ cup small diced Onion

1 stalk Celery, Small Diced

½ tsp Sweet Pimenton

1 tsp Spicy Pimenton

1 ½ cup Bomba Valencia Rice

2 tbsp Tomato Paste

½ cups Castelvetrano Olives, pitted & halved

6 Piquillo Peppers, drained & sliced

½ of a Lemon's Juice

½ Lemon, cut into thin wedges

Fine Extra Virgin Olive Oil (we used 1st Day Arbequina)
DIRECTIONS
1
Cook the Rabbit Sous Vide: preheat your water bath 145°F. Season the rabbit legs with salt, vacuum pack them, and lower them into the bath.
Once the bath returns to temperature, start your timer & cook for 4 hours.
2
When the rabbit legs have cooked, remove them from the bags & shred the meat off the bones.
3
Prepare the Artichoke: Trim the top off the artichoke, then tear/snap off the outer leaves. Trim the leaves off the bottom of the bulb around the stem.  Trim the outside of the stem so it's thinner and cut down to the more tender part, but leave it long.
Quarter the artichoke (including the stem on each quarter).  Scoop out & discard the choke.  Cut each quarter into halves (so you're left with eighths).
4
Pour the paella base into a pot with the ½ cup of extra liquid & the saffron. Bring it to a light simmer.
5
Pour the duck fat into your paella pan. Get it hot over medium-high heat, then add the artichoke pieces.  Cook, gently stirring, until the artichoke pieces are browned on all sides.
6
Add the tomato paste to the center of the pan. Fry it until browned.
7
Add the onion, celery & pimentons. Cook until the vegetables soften, then add the rice
8
Stir to coat the rice with oil & lightly toast it.
9
Pour in all the paella base. Stir gently to make sure the rice is distributed.  This is the last time you will stir the paella.
10
Bring the liquid to a boil, then reduce the heat to a simmer.
11
When the rice begins to rise above the surface of the broth across the pan, tuck the meat into it (without disturbing the bottom layer of the rice). Sprinkle the olive halves and pepper slices across the surface of the meat.
12
Continue to cook until the rice is tender. Squeeze the half lemon's juice over the paella, then nestle the lemon wedges at various places across the rice.
13
Drizzle the paella with some extra virgin olive oil. Serve family style.