Rabbit over Vegetable Curry
Makes 6 Servings
WINE PAIRING
Mosel Riesling or a Junmai Sake
This simple recipe creates a creamy coconut milk based sauce that is sweet & spicy and laden with crisp vegetables. Top it with tender rabbit, and you've got a rich treat!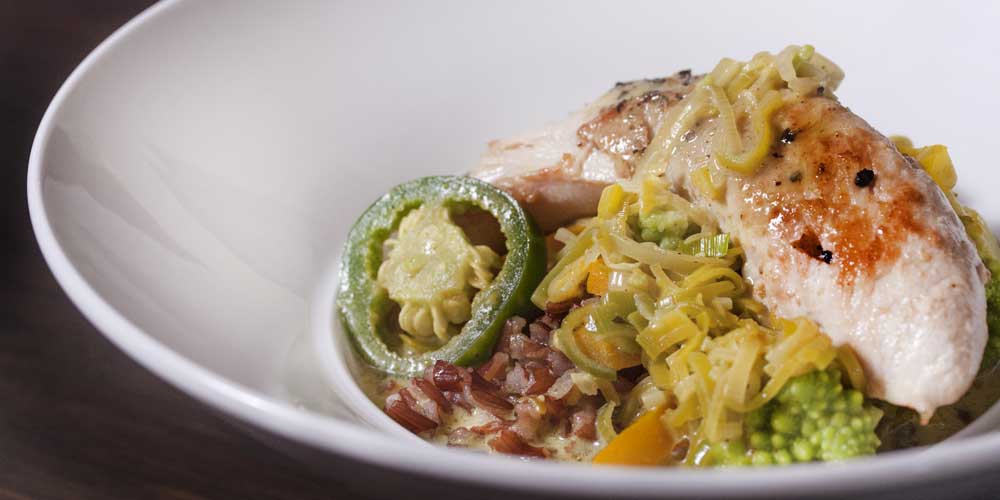 INGREDIENTS
3 Rabbit Loins (from rabbit saddles or cut from whole fryer rabbits)

1 large Leek, thinly sliced

½ head of Romanesco, cut into florets

2 Bell Peppers, cut into thin sticks

1 tbsp Toasted Sesame Oil

1 tbsp Olive Oil

1 dash of Fish Sauce

2 ½ cups of Coconut Milk

2 cloves of Garlic, sliced

1 tbsp fresh Ginger, sliced

½ Jalapeno Pepper, sliced

2 tbsp Curry Powder

1 tbsp Rice Wine Vinegar

Juice of one Lime

Salt & Pepper to taste
PLUS:
6 cups of Himalayan Red Rice or Jasmine Rice cooked according to the Pilaf Method.
DIRECTIONS
1
Ready a large bowl filled with ice water for shocking the romanesco.
2
Blanch the romanesco florets in a large pot of boiling salted water until they're mostly tender but still have a slight crunch.
3
Briefly plunge the romanesco florets in the ice water (shock them) to stop the cooking process and set the color.
4
Season the rabbit loins with salt and pepper.
5
In a large frying pan or skillet heat the olive oil and sesame oil.
6
Sear the rabbit loins, leaving them just slightly undercooked (they will finish through carry over cooking). Remove from the pan and reserve.
7
Add the leek to the pan and sweat it until translucent.
8
Add the blanched romanesco, peppers, jalapeno, garlic, curry powder and ginger.
9
Deglaze with the coconut milk. Add the lime juice, rice wine vinegar and fish sauce. Season with salt & pepper.
10
Simmer until the coconut milk has been reduced to a sauce consistency and the vegetables are tender.
11
Put a layer of rice in each bowl, cover with the curry sauce & vegetables, and top with half a rabbit loin (whole or sliced).