Quail Breasts on Tarator Sauce with Pomegranate Gremolata
Makes 10 Appetizer or 5 Light Starter Servings
The nut-based tarator sauce is typically served with fried food (often mussels) in Turkey. It's lovely here with fried quail, and we added a pomegranate, parsley & lemon zest gremolata to bring some acidity and color to the dish.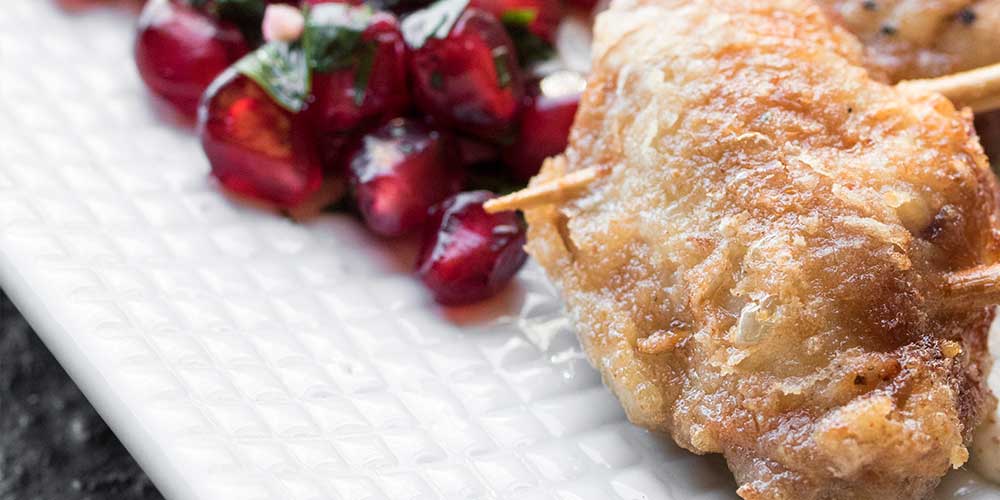 INGREDIENTS
1 tsp Fresh Lemon Juice

2 Tbsp Cornstarch

Neutral-Flavored High Heat Oil for Frying

Salt and Pepper
Tarator Sauce:

1 slice Firm White Sandwich Bread, crusts removed

1 Garlic Clove

1/4 cup Slivered Almonds, toasted and cooled

1/4 cup Shelled Hazelnuts, toasted and cooled

2 Tbsp Fresh Lemon Juice, plus additional as needed

1/4 cup Water

1/4 cup + 1 Tbsp Extra-Virgin Olive Oil

1/2 to 1 tsp Salt

Black Pepper
Pomegranate Gremolata:

1/2 cup Pomegranate Seeds

1/2 cup Parsley Leaves, medium chopped

1/2 tsp Lemon Zest

1 clove Garlic, minced finely

1 pinch Aleppo Pepper

Salt and Pepper to taste
DIRECTIONS
1
Pat the quail breasts dry and put them into a small Ziploc bag with 1 tsp fresh lemon juice, a pinch of salt, and a grind of black pepper. Marinate while you're making the tarator.
2
If you're using bamboo skewers, place them in warm water to soak now.
3
Soak the bread in a bowl of water for 30 seconds, squeeze dry and set aside.
4
Drop the garlic into a food processor with its motor running, then drop in the nuts and process them until finely ground.
5
Add the bread and lemon juice, and process until smooth.
6
With the motor still running, add the oil in a slow, steady stream.
7
Transfer into a bowl and stir in salt, pepper and any additional lemon juice to taste.
8
Combine the pomegranate seeds, chopped parsley, lemon zest, garlic, Aleppo, salt and pepper in a small bowl and let the flavors meld a bit.
9
In a small saucepan, heat your frying oil to 350°F.
10
Toss each quail breast in cornstarch, shake off any excess, and thread it onto two skewers.
11
When all your skewers are made, fry them in batches until golden brown, about 2 minutes each, and drain on paper towels.
12
Spread a schmear of tarator on each plate. Top with 1-2 quail breast skewers. Scatter with pomegranate gremolata and serve immediately.