Corn-Breaded Quail Lollipops with Apple Molasses and Pecan Crumble
Makes 8 Servings
WINE PAIRING
Brunello of Montalcino
This rustic yet elegant finger food recipe is sweet, savory, meaty & nutty.  The frenched quail leg bones provide a convenient handle so you don't have to get your fingers sticky.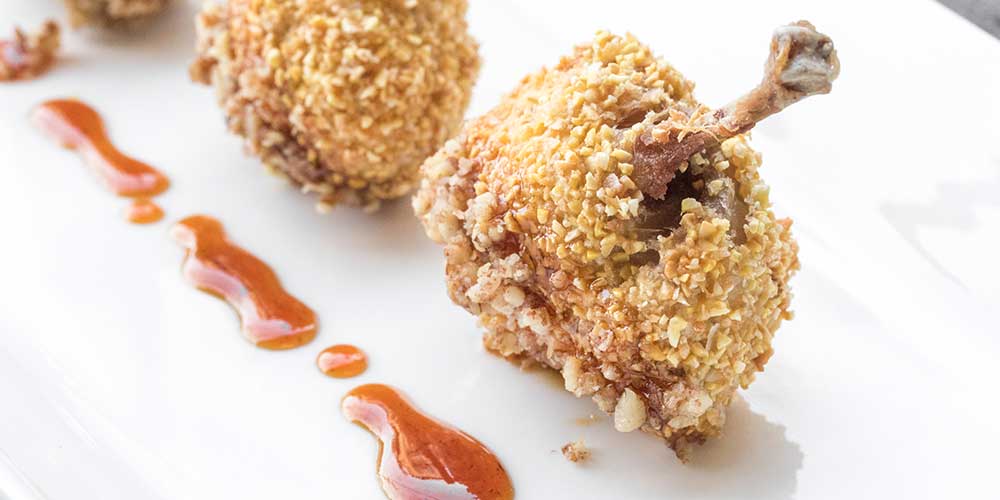 INGREDIENTS
Neutral-Flavored High Heat Oil for frying

1/4 cup Cornstarch

1 Egg, beaten well

1/2 cup Finely Ground Cornmeal

2 Tbsp Apple Cider Molasses, plus a bit for garnishing

1 clove Garlic

1 tsp Piloncillo or Brown Sugar

Pinch of Salt, grind of Pepper

1/8 cup Pecans
DIRECTIONS
1
In a small saucepan, heat the oil to 350°
2
Toss each quail leg lollipop in cornstarch, shaking of any excess. Drag it through the beaten egg to coat, and then roll it in the fine cornmeal. Set aside, and complete the others.
3
Place the apple cider molasses in a ramekin or small bowl.
4
Make the pecan crumble: Place the garlic clove, piloncillo, salt and pepper in a food processor and run till the mixture is smooth. Add the pecan and pulse until finely ground. Transfer to a small plate.
5
Fry the quail lollipops until cooked through, about 3-4 minutes. Fish them out with a spider and let them drain briefly on paper towels.
6
Hold each lollipop by the bone, dip a corner into the apple cider molasses, and then dip into the pecan crumble.
7
Serve immediately on a plate garnished with a line of molasses and more crumble.