Thai-Style Fried Quail Legs with Banana Leaf Coconut Rice Bundles
Makes 4 Servings
DRINK PAIRING
Thai Beer
Crispy, herby, savory fried quail legs served with creamy coconut & banana-leaf infused jasmine rice.  You can also omit the rice to simply serve the quail legs as an appetizer like you would chicken wings.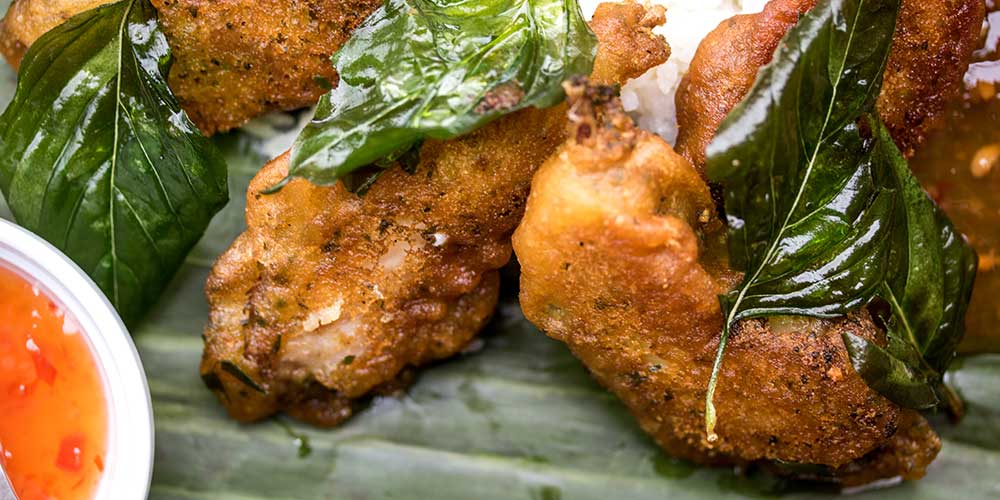 INGREDIENTS
Sweet Chile Sauce

Thai Basil
Rice:

2 tsp Red Boat Fish Sauce

2 cups Jasmine Rice, rinsed

3 1/2 fl oz Coconut Milk

Banana Leaves
Marinade:
1 tsp Coriander Seed

½ tsp Black Peppercorns

1 cup Cilantro Stems

2 tbsp Oyster Sauce

¼ tsp Cayenne Pepper

2 cloves Garlic

1 ½ tsp Red Boat Fish Sauce
Batter:

¾ cup White Rice Flour

¾ cup All Purpose Flour

2 tsp Baking Soda

1 tsp Salt

1 ½ cups Water
DIRECTIONS
1
Toast the coriander and black peppercorns in a dry pan until aromatic. Finely grind them.
2
Combine with the other marinade ingredients in a food processor. Process into as fine a paste as possible.
3
Put the quail leg quarters in a large zip top bag with the marinade. Massage the bag to coat the leg quarters with the marinade, then move it to the fridge to marinate overnight.
4
Mix the coconut milk with water until the total volume is three cups.
5
Put the jasmine rice in a pot with the coconut milk mixture and fish sauce.
6
Put the pot on the stove, uncovered, over high heat. As soon as the liquid comes to a boil, reduce the heat to a simmer.  Cover the pot and cook for 17 minutes.
7
Remove the rice pot from the heat & let it sit, covered, for 10 minutes.
8
Move the rice into four portions of banana leaf. Wrap them into bundles, using thin strips of banana leaf to tie them shut.
9
Steam the rice bundles for ten minutes in a steamer or in a pot with a small amount of water & a steamer basket insert.
10
Mix together all the batter ingredients in a wide bowl.
11
Heat the frying oil in a deep pot to 350°F.
12
Dip each marinated quail leg in the batter, shake off the excess & gently lower it into the oil (cook in batches, do not overcrowd the pot).
13
Once the quail legs have fried to a golden brown, remove them from the oil to paper towels to drain.
14
Fry some Thai basil leaves in the remaining hot oil until they darken & crisp up.
15
Serve six quail legs per person with a bundle of coconut rice each & some of the sweet chile sauce, garnished with the fried basil leaves.