Quail Legs over Pomegranate Bulgur Packets
Ingredients: Makes 12 Appetizer or 4 Small Plate Starter Servings

These marinated quail legs are tasty over bulgur, which we cooked with pomegranate juice to add an interesting color and bring a bit of flavor and acidity. To turn this dish into an elegant appetizer, we used vine leaves to wrap the bulgur in bit-sized bundles, and topped them with the quail legs and a drizzle of sweet-tart pomegranate molasses.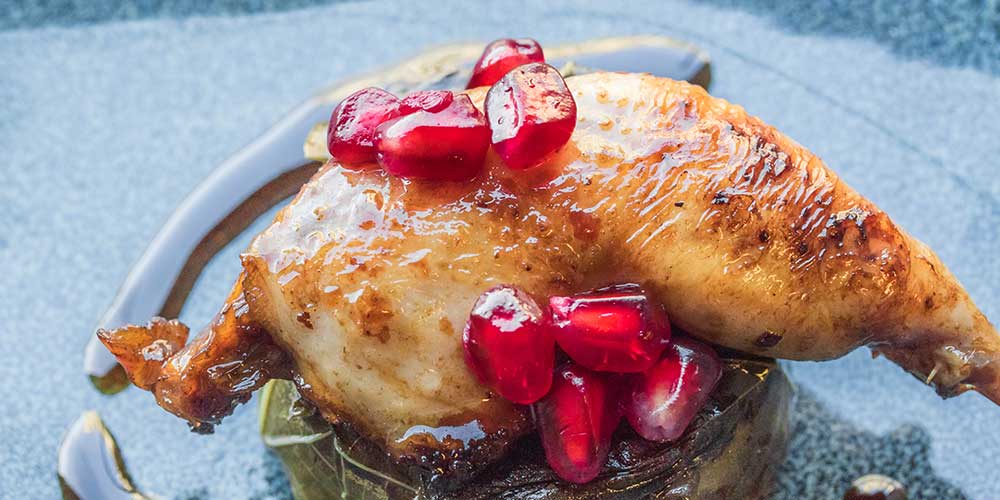 INGREDIENTS
Quail Legs:

1 tbsp Pomegranate Molasses

1 tsp Fresh Lemon Juice

2 tsp Olive Oil

1 clove Garlic, minced finely

Pinch Salt, grind of Pepper
Pomegranate Bulgur:

1/2 cup Yellow Onion, small diced

2 pinches Salt

2 Tbsp Olive Oil

1 cup Large (Pilavlik) Bulgur

1-3/4 cup Pomegranate Juice
1 jar Vine Leaves

2 Tbsp Olive Oil

Pomegranate Molasses for garnish

Pomegranate Seeds for garnish

Whole Parsley Leaves for garnish
DIRECTIONS
1
Whisk pomegranate molasses, lemon juice, and olive oil together, add garlic, salt and pepper.
2
Pour into a small Ziploc bag with the quail legs, and moosh to coat evenly.
3
Marinate while you make the bulgur.
Make the pomegranate bulgur:
4
Heat olive oil in a small saucepot over medium, add the onion and sauté until soft, but not brown.
5
Increase the heat to medium-high, add the dry bulgur, and stir until all the bulgur is coated with oil. Continue to cook, stirring constantly, until the bulgur starts smelling toasty.
6
Add the pomegranate juice, stir well one time, and bring to a boil.
7
Reduce the heat to low, cover, and leave to simmer until the liquid has evaporated, the top of the bulgur looks like moon craters, and it's tender. Uncover, fluff with a fork, and set aside for just a moment to release steam.
8
Unpack the vine leaves from the jar and rinse them in a bowl of cold water. Stack them.
9
Choose a square or round ring mold that will create roughly bite-sized results. Place it on a cutting board, and drape 2 large or 3 medium leaves over the ring mold so that at least half of them are hanging over the edges. Gently press the leaves down into the ring mold.
10
Fill the bowl you've formed with pomegranate bulgur and press down gently. Fold the overhanging vine leaves over the bulgur and press down, while still in the ring mold, to firm up the packet you've created.
11
Brush the folded-over leaves lightly with olive oil, and pull up the ring mold to use again. Make 12 packets in this way.
12
Heat a cast iron skillet over medium-high heat and add 1 Tbsp olive oil.
13
Sauté the packets, seam side down first, until the vine leaves start to brown. Flip and sauté the other side until lightly brown as well. Set aside.
14
Add 1 more tbsp of oil to the pan if necessary. Pull the quail leg quarters from the marinade, reserving the marinade. Sauté the quail legs for 6-8 minutes, until the bottoms are well browned and cooked through. Use care; the molasses will encourage burning, so reduce the heat if necessary.
15
Flip the quail legs, add the reserved marinade, and continue to cook until the marinade glazes the quail legs & they're cooked fully through.
16
Put a bulgur packet on each plate or lay them out on a platter. Top each packet with one quail leg, drizzle with just a touch of additional pomegranate molasses, and garnish with pomegranate seeds and a parsley leaf.