Veal Tartare w/ Cornichon Butter, Quail Egg & Pickled Celery
Makes 6 Appetizer or 8-10 Hors d'oeuvre Servings
WINE PAIRING
White Burgundy
Delicate & delicious, this tartare recipe uses quail egg yolks and butter for richness, cornichons and pickled celery for bite, and grassfed veal for a luxurious texture.
The secret ingredient is colatura, an elegant Italian fish sauce that adds extra umami to the dish. Because it's naturally salty, you want to add it before tasting the tartare for seasoning.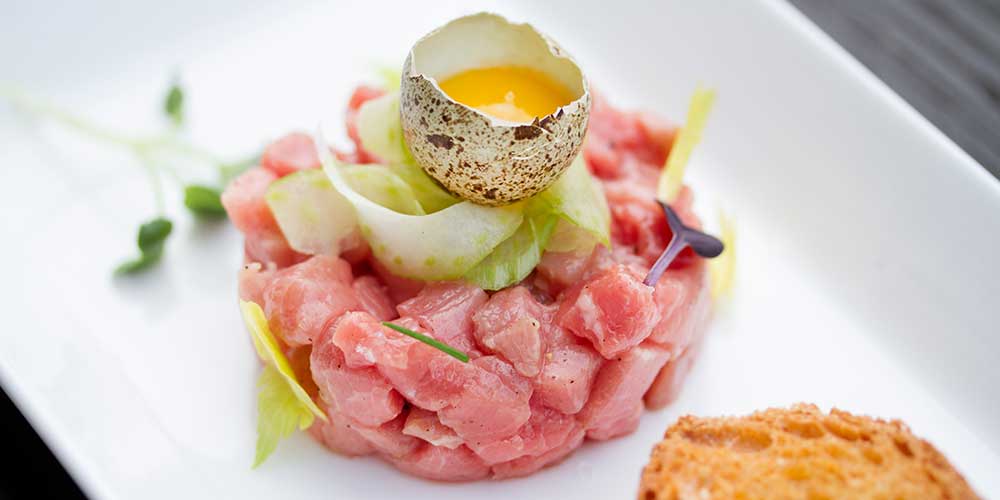 INGREDIENTS
6-10 Quail Eggs, depending on the number of servings
1 tsp Colatura Fish Sauce

Lemon Juice

Extra Virgin Olive Oil

Minced Chives

Thin Slices of Toasted Bread

Microgreens and/or Celery Leaves

Salt & Pepper
Cornichon Butter:

¼ Cornichons, finely minced

1 stick Unsalted Butter
Pickled Celery:

1 stalk Celery, cut very thin on the bias

½ cup Seasoned Rice Wine Vinegar
DIRECTIONS
1
Freeze the eye round for 30 minutes.
2
Let the butter soften out of the fridge.
3
Mix the cornichons into the butter.
4
Slice the eye round into 1/8" thick slices.
5
Cut the slices into julienne strips.
6
Cut the julienne strips into 1/8" cubes.
7
Make the pickled celery: Pour the rice wine vinegar over the celery slices and weight them down so they stay under the surface. Let them marinate for thirty minutes.
8
Season the veal with olive oil, colatura, and a touch of lemon juice. Taste & add salt and/or pepper to taste.
9
Place some of the tartar on your plates (use a ring mold to be extra fancy).
10
Place some of the cornichon butter on each plate (form it into quenelles to be extra fancy).
11
Top the tartar with some of the quick-pickled celery and a quail egg yolk.
12
Garnish the plate with celery leaves and microgreens. Serve with thin slices of toasted bread.