Hard-Boiled Quail Eggs with Roasted Peppers & Olives
Makes 4 Servings
WINE PAIRING
Sparkling Chenin Blanc
A simple, elegant, tangy-creamy-savory appetizer.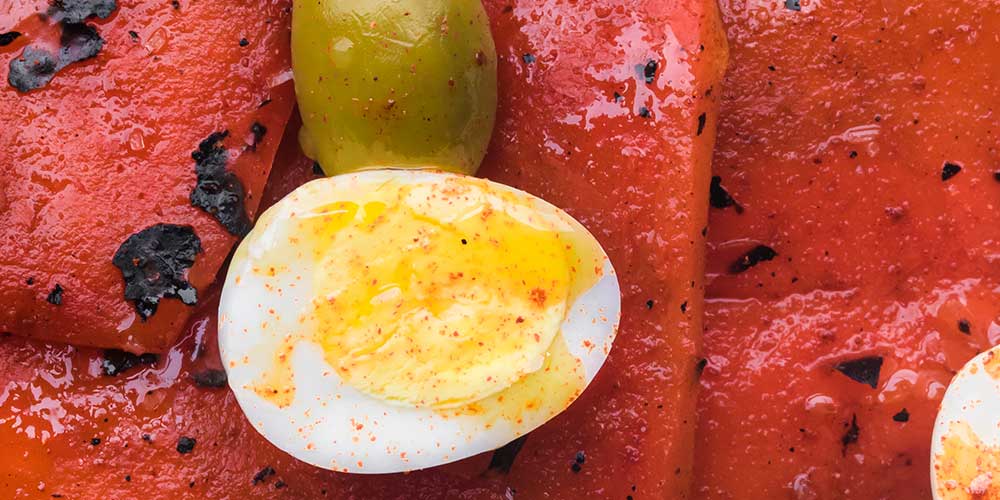 INGREDIENTS
1 dozen Quail Eggs
2 Roasted Red Peppers (jarred is ok, or roast your own)

1 handful Pitted Picholine Olives

Smoked Paprika or Sweet Pimenton

Extra Virgin Olive Oil

Sherry Vinegar

Salt
DIRECTIONS
1
Put the quail eggs in a small pot of cold water. Bring the water to a boil, reduce the heat to a simmer, and simmer for two minutes.
2
Immediately remove the quail eggs & put them an ice water bath to keep them from continuing to cook.
3
Slice the roasted red peppers & lay them out in a single layer on a plate.
4
Peel the quail eggs & halve them.
5
Sprinkle the quail egg halves and olives across the peppers. Season with salt.
6
Lightly drizzle the plate with sherry vinegar & extra virgin olive oil.
7
Lightly sprinkle with paprika.