Quail Drumsticks with Balsamic & Quince
Makes 20 Bites (Approx. 5 Appetizer Servings)
Simple, delicious.  This tapa only has four ingredients, but will provide plenty of sweet-savory-fruity flavor.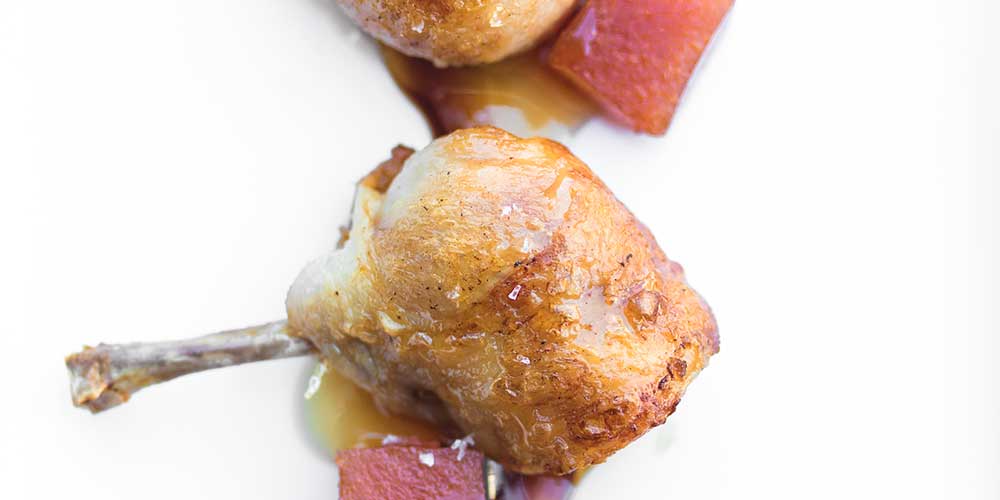 INGREDIENTS
1 cup Plain Balsamic Vinegar

1 jar Quince Cutting Preserves (or Membrillo)

Flake Sea Salt
DIRECTIONS
1
Pour the balsamic vinegar into a small saucepot & simmer until it reduces by half its volume, becoming thick & syrupy. Immediately remove it from the heat & let it cool.
2
Cut the quince paste into small, bite-sized cubes (wiping off your knife between each cut).
3
Secure the skin and meat around the bone of each drumstick by pinning the two sides together at the inner end of the frenched bone with a toothpick.
4
Pour enough oil into a cast iron skillet to coat the bottom. Get it very hot over high heat.
5
Sear the quail legs in the oil, turning as necessary, until they're golden brown & cooked through.
6
Remove the drumsticks from the pan & let them sit for a minute to cool. Remove the toothpicks.
7
Drizzle some of the balsamic reduction across a serving plate. Arrange the quail legs across the plate.
8
Sprinkle the quince cubes around the plate.
9
Sprinkle the drumettes with flake sea salt.