Quail Breasts & Eggs w/ Black Garlic Puree & Charred Romanesco
Boneless quail breasts are an easy-to-cook, elegant protein choice for upscale appetizers.  Here's a fine dining-style one balancing them with a sweet/savory black garlic puree, the luxurious creaminess of sunny side up quail eggs, and the bite of raw radishes.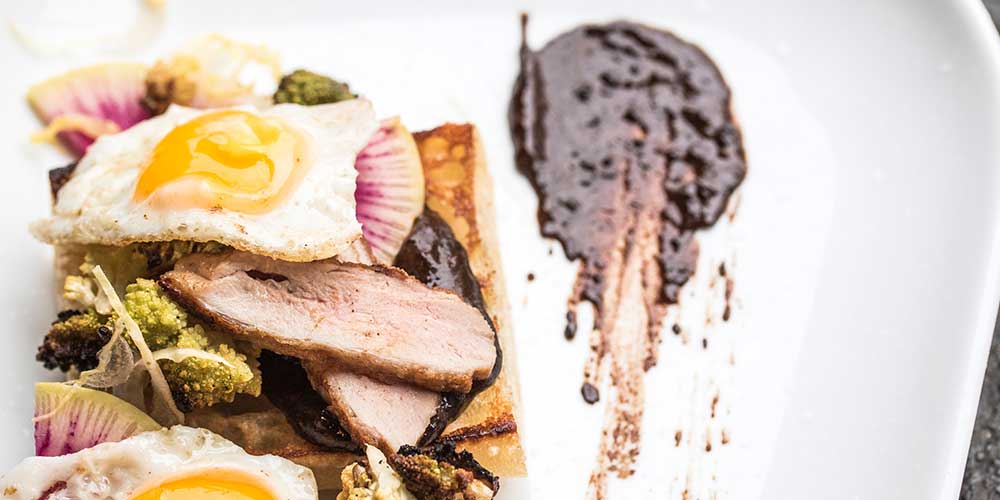 INGREDIENTS
1 sprig of Fresh Thyme

2 tbsp Neutral Flavored Oil

1 tbsp Unsalted Butter

Finishing Salt of Choice
Black Garlic Puree:

¼ cup Black Garlic cloves

1 Chicken Egg Yolk (ideally pasteurized for safety)

1 tsp Lemon Juice

1 tbsp high quality Olive Oil
Hot Garnish:

½ loaf of Rustic Bread, thickly sliced

1 head Romanesco, cut into florets

1 clove of Garlic

1 tbsp 50/50 blend of Neutral-Flavored Oil & Unsalted Butter
Cold Garnish:

1 Shallot, peeled & sliced paper thin

2 Radishes (preferably Watermelon Radishes), thinly sliced

Salt & Pepper
DIRECTIONS
1
In a blender puree together the black garlic, chicken egg yolk and lemon juice until smooth. Continue to blend while drizzling in the olive oil.
2
Get a large pan oiled with the oil/butter mixture very hot. Saute the Romanesco florets in the mixture until lightly charred.
3
Remove the romanesco from the pan, then add additional oil as needed & toast the bread slices until golden brown, adding the garlic clove to the oil near the end.
4
Heat a separate heavy pan over medium heat with the two tablespoons of oil. Add the quail breasts, skin-side down. Press them down into the surface of the pan while cooking to ensure the skin crisps up.
5
Once the breasts are half-cooked, flip them & add the butter and fresh thyme to the pan. Once the butter has melted, use a spoon to continuously baste the quail breasts with it as they finish cooking.
6
Crack the quail eggs into a hot nonstick pan & cook them sunny side up. Season with finishing salt.
7
Slice the quail breasts.
8
Spread some of the black garlic puree on each piece of bread. Top each piece with Romanesco & quail breasts, then some radish & shallot, then a quail egg. Season to taste & serve.