Pumpkin Risotto with Pheasant Sausage
So I've taken to telling people that orange is the new tan.
It was a last resort this winter when the overabundance of winter squash and pumpkin that I was practically inhaling turned my skin a lovely shade of tangerine.  (Hey, at least I matched the citrus fruits that were also in season.  Put me in a supermarket, and I would have fit right in.  It's amazing that the cashiers at Whole Foods didn't try to shelve me along with the Florida grapefruits.  Not that I would have complained.  I really like grapefruit.)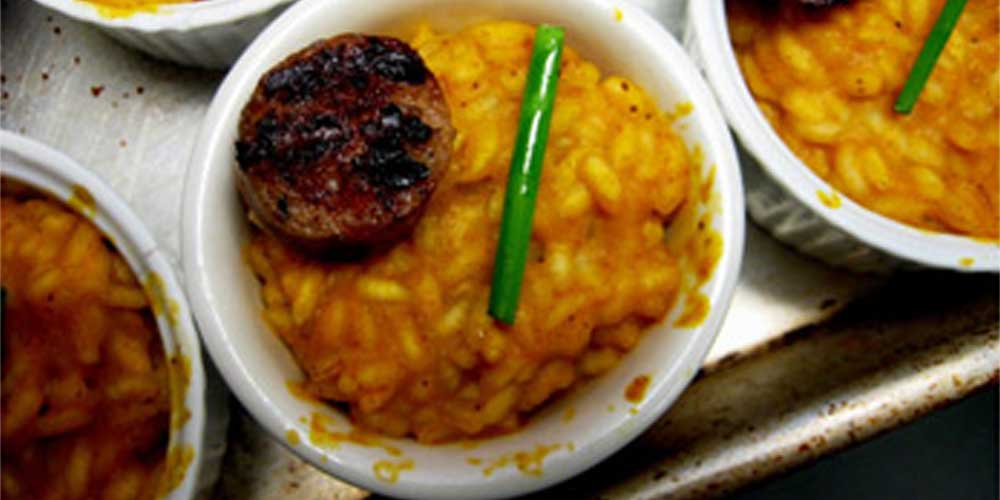 INGREDIENTS
1 head of garlic, cut in half longitudinally

2 tbsp olive oil

1 lb Arborio rice

6 cups chicken broth

1 can pumpkin puree (14 oz)

3 tbsp mascarpone

Cinnamon and nutmeg, to taste

Salt, to taste

4 links pheasant cognac sausage

Chives, to garnish
I also suddenly gained really good night vision.  I felt kind of like Clark Kent.  Crossed with a Teenage Mutant Ninja Turtle.
Gotta love that beta carotene.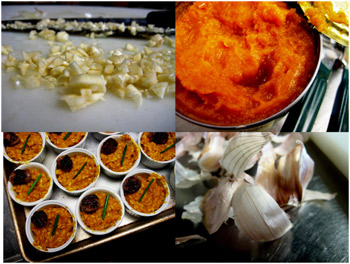 Anyway.  The point is that I eat a lot of pumpkin. 
And one of the things that I've learned in all of my pumpkin-eating experience is that if there is one thing that goes really well with pumpkin?  It is sausage. 
Especially when that sausage is rife with the flavors of pheasant and cognac. 
Now that is just a muse in and of itself.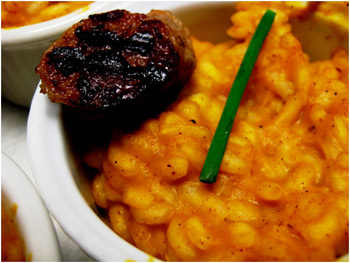 There are a myriad of ways to combine the sweetness of pumpkin with the saltiness of sausage in a way that will make your taste buds erupt into peals of ecstasy. 
Pasta.  Polenta.  The options are endless.
One of my personal favorites is this Pumpkin Mascarpone Risotto with Pheasant Cognac Sausage.  Great as an appetizer served to start off a dinner party, but also as a main course.  For when one little ramekin just won't suffice.  Which.  Take my word for it. It won't.
DIRECTIONS
1
Preheat the oven to 400 degrees.  Wrap each of the halves of garlic heads in aluminum foil.  Cook for 45-50 minutes.  When cloves are soft and mushy, remove from the oven.  Let cool.  Scoop out the cloves into a small dish and mash together into a paste.
2
Heat the 2 tbsp olive oil in a medium skillet.  Add in the rice and sauté for about 2 minutes, constantly stirring. 
3
In the meantime heat the chicken broth in a small pot just until it reaches a simmer.
4
About a half cup at a time, add the chicken broth to the Arborio rice, only adding the next bit after the amount you previously added has evaporated.  Stir constantly.
5
When the rice is tender, mix in the pumpkin along with the roasted garlic.  Add the mascarpone.  Season with salt, cinnamon, and nutmeg to taste.
7
Spoon the risotto into ramekins, place these on a baking sheet and cover with aluminum foil.  Let sit in the oven until the sausage is done.  Or, if serving this is a main dish, spoon into a large casserole dish, cover with foil and place in the oven.
8
Heat a grill pan or fire up an outdoor grill.  Cook the sausages, turning every few minutes, until cooked through.
9
Slice the sausages.  Top each ramekin with a slice.
10
Garnish with chives and serve.