Pulled Pork, Corn & Leek Soup
Makes 4 Servings
WINE PAIRING
Bruner Veltliner from Austria or Savagnin for Jura
Despite pulled pork's image of being rich and heavy, this is a surprisingly light soup filled with pork, leek, and sweet corn flavor. Because the leek and corn are just barely cooked at the very end, they maintain a lot of their texture and flavor. Their sweetness and tiny crunch reaches past the pork to grab your attention, a surprise delight.
INGREDIENTS
~ 1lb of any pork braising cut (we used pork osso bucco, but you could use kurobuta pork shoulder, kurobuta cheek meat, etc)

½ cup aromatic White Wine (we used Riesling)

¼ cup Carrot, Medium Diced

¼ cup Celery, Medium Diced

1/3 cup Onion, Medium Diced

1 Bay Leaf

2 Garlic Cloves, peeled

1 quart Chicken Stock

1 Leek

1 Ear of Sweet Corn

1 tsp of Unsalted Butter

Olive Oil

Salt
DIRECTIONS
1
Optional: If oven braising, preheat your oven to 325 degrees.
2
Let the pork come to room temperature. Dab off any surface moisture.

3
Get oil hot in a dutch oven, add the pork, and sear it on all sides in order to develop a golden brown crust.

4
Remove & reserve the pork, drain the excess fat and deglaze the pan with the wine.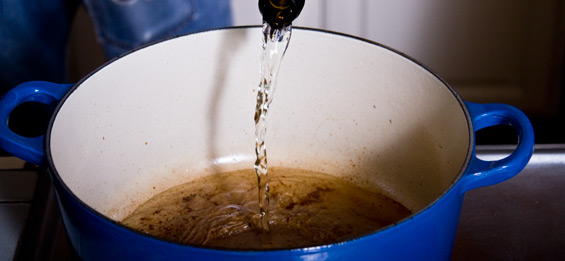 5
Reduce the wine until almost completely evaporated.
6
Add the carrots, onions, and celery. Saute until softened.

7
Add enough chicken stock to cover along with the bay leaf, garlic cloves, and seared pork.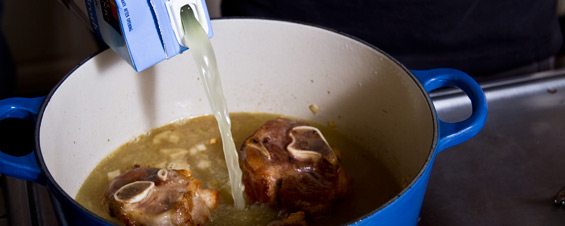 8
Bring to a simmer, cover, and
braise
(either on the stove top or in the oven) for about an hour and a half, or until tender.
9
Once the pork has braised, let the contents of the pot cool completely. Remove the pork from the liquid (reserve the rest), and pick the meat from any bones. Shred the meat into bite sized pieces with your fingers or two forks.
10
Move the remaining braising liquid to a saucepan on the stove to reheat. Taste for seasoning and add salt & pepper if necessary.
11
Remove the top and bottom portions of the leek. Slice the middle into thin disks.
12
Peel the husk from the corn and snap off the stem. Slice the kernels off of the ear by holding the ear perpendicular (vertical) to the cutting board and slicing down.
13
Heat some oil in a frying pan. Sweat the leeks until translucent, add a tsp of butter, salt, pepper, and the corn. Toss the corn in the melted butter and add the shredded pork. Cook, stirring, until the pork has heated through.

14
Pile the pork, leek, and corn in the middle of a large bowl, and use a ladle to drizzle the braising liquid soup around it. Serve.