Prosciutto-Wrapped Rabbit Loins
Makes 4-6 Appetizer or 2 Entree Servings
WINE PAIRING
Viognier
The crisped prosciutto wrapper gives this dish big pork flavor while protecting the rabbit meat so it stays tender and juicy. The sweet prunes and savory ramps or pesto on the inside are a delightful surprise.
If you're planning on using rabbit legs in a stew, braise, etc, you can start the meal with this delicious appetizer made from the leftover loins.
See How to Cut Up a Whole Rabbit for tips on breaking down a rabbit into legs & loins.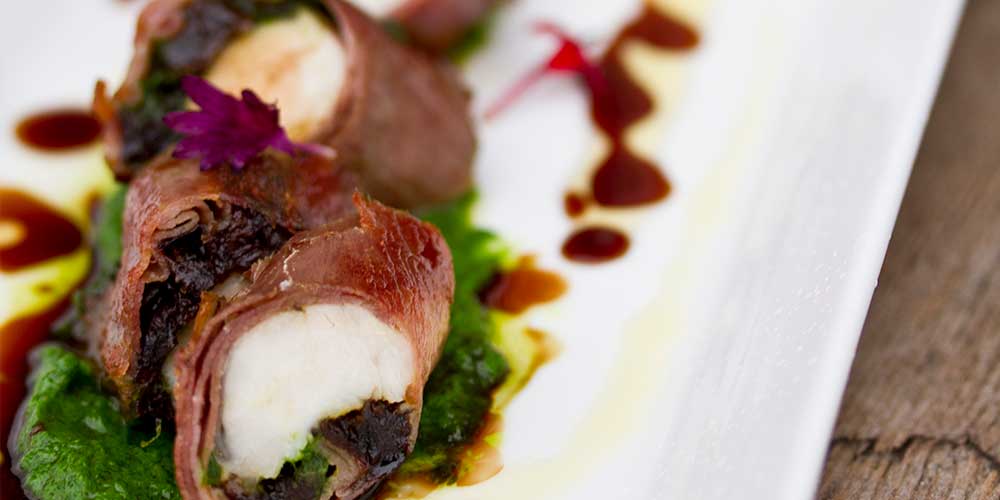 INGREDIENTS
4 slices of Prosciutto

3 Prunes, finely chopped

1 ½ tsp Wild Ramp Puree Recipe or Basil Pesto, plus extra for the plate
DIRECTIONS
1
Heat an oiled cast iron skillet or frying pan on the stove over medium heat.
2
Season the loins with salt & pepper.
3
Slightly overlap two pieces of prosciutto and lay a rabbit loin in the middle. Do the same with the remaining prosciutto and the other loin. Add the puree/pesto along the loin and top with the chopped prunes.
4
Roll the prosciutto around the loins and other ingredients.
5
Lay the wrapped loins into the pan, seam-side down.
Sear
them on all sides to develop a brown crust.
6
Once the loins have reached an internal temperature of 150 degrees, remove them from the pan.
7
Serve them above additional pesto or ramp puree, drizzled with a little balsamic vinegar or extra virgin olive oil.