Porcini Crusted Teres Majors with Miso Butter, Bok Choy & Beech Mushrooms
Makes 4 Servings
WINE PAIRING
Northern Rhone Syrah
This miso butter is so addictive, you may end up putting it on, well, just about everything. It adds extra richness and umami to lean teres majors rubbed with porcini salt, served with caramelized beech mushrooms & roasted bok choy.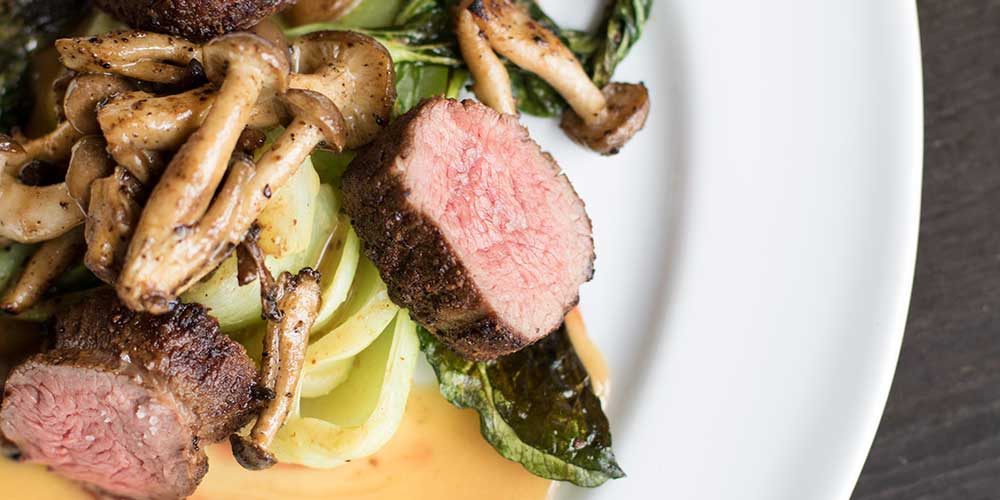 INGREDIENTS
2lbs Baby Bok Choy, halved lengthwise

2 tbsp Coconut Oil

3.5oz pack Beech Mushrooms
Porcini Salt:

1/2oz Dried Porcini Mushrooms

1 tsp Smoked Salt
Miso Butter:

1 tbsp Red Miso

1 tsp Porcini Salt

¼ cup Chicken Stock

4 tbsp Unsalted Butter

Salt & Lemon Juice to Taste
DIRECTIONS
1
Preheat your oven to 325°F.
2
Grind the dried porcinis and smoked salt together in a spice grinder or clean bladed coffee grinder.
3
Tie the teres majors with butcher's twine, flipping their thin side under before tying so the meat has a more uniform thickness.
4
Melt the coconut oil and pour it over the bok choy, tossing to coat. Sprinkle the bok choy with 1 tablespoon of the porcini salt. Roast in the oven for 15 minutes.
5
Coat the teres majors with some of the porcini salt.
6
Oil a hot frying pan or skillet and sear the teres majors in it, turning occasionally, until they develop a brown crust on all sides.
7
Move the teres majors to a baking dish and roast them to an internal temperature of 120°F (for rare/medium rare).
8
Break the beech mushrooms apart and add them to the pan where you seared the teres majors. Season with the porcini salt and then saute them until caramelized (
how to saute mushrooms video
)
9
Make the butter: whisk together the miso, chicken stock & remaining porcini salt in a sauce pan over low heat, until the miso thins. Then start whisking in the butter, a tablespoon at a time.  Once all the butter is incorporated, add salt and lemon juice to taste.
10
When the teres majors have cooked, remove them from the stove and let them rest, loosely covered with foil, for 10-15 minutes. Then cut the twine off of them and slice them.
11
Serve the sliced teres major with the bok choy, miso butter and mushrooms.