Believe it or not, porcini mushrooms make a wonderful ingredient in spice rubs when ground into a powder. In addition to earthy mushroom flavor, they bring a lot of meat-friendly umami. We used this rub with grass-fed beef steaks, but you could use it on kobe beef, bison, wild boar, pork or poultry.
DIRECTIONS
1
Toast the cardamom seeds in a dry pan until fragrant.  Add the ground cinnamon and continue to toast for ten seconds, stirring.

2
Rub the resulting powder on your meat of choice.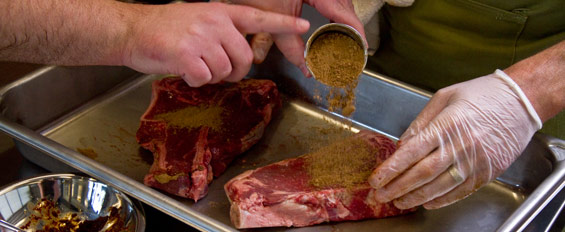 3
Optional, but ideal: rest the meat in your refrigerator for a couple of hours prior to cooking to allow the rub flavors to better penetrate it.
4
Grill, broil, pan-roast, or otherwise cook the meat as you normally would.