Porcini Mushrooms A La Plancha
Makes 8 Servings
WINE PAIRING
Brunello of Montalcino
A large part of this dish's visual appeal comes from the natural shape of the wild porcini mushroom, so this recipe is designed to be made in small quantities, allowing you to pay very close attention to slicing and cooking each slice of porcini individually. The citrus, butter, porcini and garlic flavors featured here are big and bold, so only a few bites are needed for a superb amuse bouche or appetizer (though you could also use it to top risotto).
The goal is to develop a browned layer on the outside of the mushroom slices that will accentuate their flavor (almost like searing meat). To do this, you'll need to let them sit undisturbed for about 4-5 minutes before flipping so they look like the photo above. This probably seems like a long time for such thin slices, but trust us, they'll taste and look amazing, as long as you're using a well oiled pan or well seasoned skillet.
This recipe could also be adapted for larger quantities … the result will be a mellower (but still fabulous) flavor and a softer texture. To make larger batches, simply follow the below instructions in terms of ingredients, but increase the quantity of porcinis. Don't cook them in a single layer… but do still slice them thin and treat them more like caramelized onions. Let the porcinis cook undisturbed before flipping (rather than stirring) to develop a couple nice caramelized layers.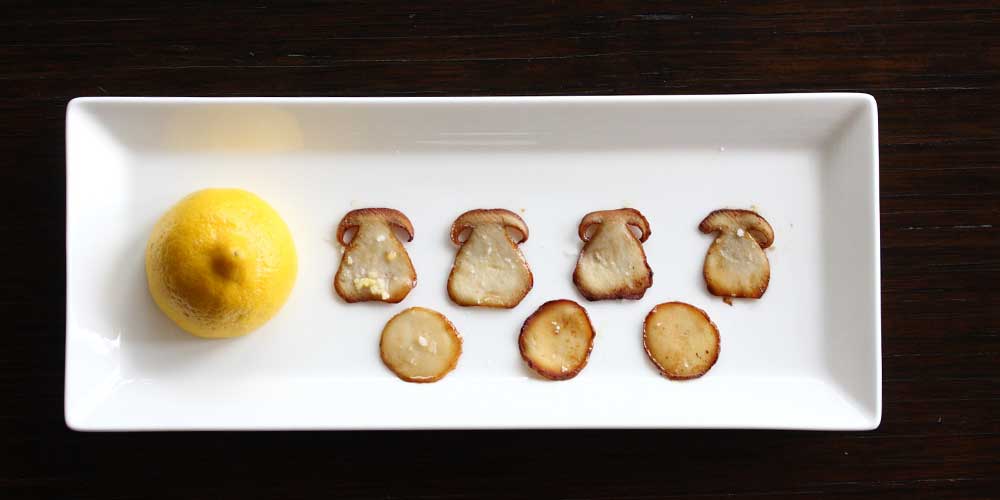 INGREDIENTS
Fresh King Bolete Mushrooms (aka fresh porcinis), finely sliced (as many as you can fit in a single layer in your pan)

1 tsp garlic, finely diced

1 tbsp unsalted butter

1 tbsp lemon juice

Finishing Salt to taste
DIRECTIONS
1
Melt the butter in a hot pan (either stainless or cast iron is fine).
2
Add finely sliced porcini mushrooms in a single layer, and cook them at medium heat for about 5 minutes, or until they are browned.
3
When the first side is brown (see photo above for a visual reference), flip the porcinis and brown the other side.
4
Just before the second side is finished, add the garlic & cook for another minute.
5
10 seconds before they're done, add lemon juice and reduce to almost dry.
6
Plate the mushrooms, then sprinkle on a little
flor de sal
to finish. You can garnish with a wedge, half, or thin slice of lemon.