Porcini Agnolotti w/ Brown Butter & Shallot Sauce
Makes 4 Servings
WINE PAIRING
Viognier, Bandol Rose, or full bodied white Burgundy wine
Deep, earthy, nutty flavors abound in this simple pasta dish.
Nuovo's porcini pasta has a lot of mushroom flavor on its own, so you don't have to add the fresh or frozen porcini mushroom…but it amps things up even further and helps to tie the presentation to the flavors.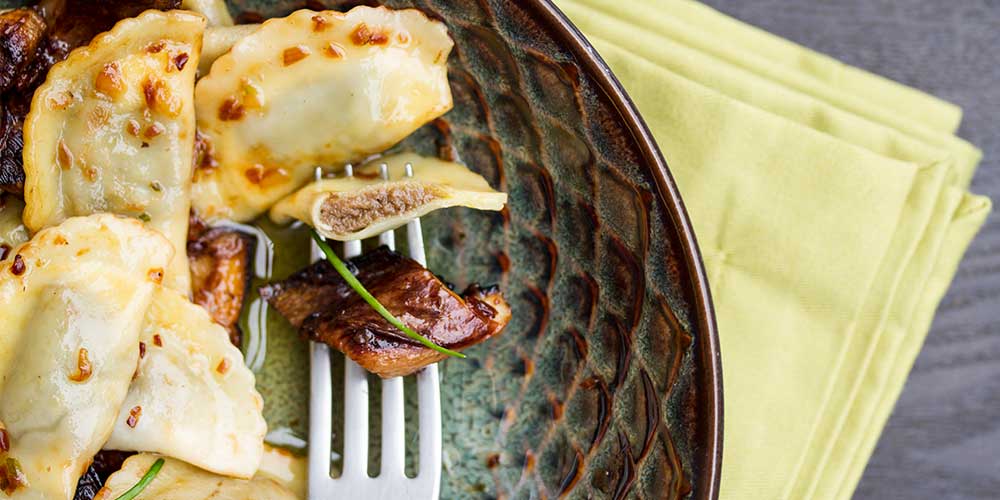 INGREDIENTS
18oz Porcini Agnolotti Pasta (or other pasta of your choice)

½ stick of Unsalted Butter

¼ cup minced Shallot

½ cup White Wine

1 tsp Lemon Juice

1 tsp minced Fresh Chives

Salt
DIRECTIONS
1
Optional – Porcini Garnish:
Preheat your oven to 400 degrees. Oil a small baking dish. If using frozen, let the porcini cap thaw just enough to slice. Thickly slice the porcini cap. Toss it in olive oil, salt and pepper.
Roast in the oven until the bottom is caramelized and the top has dried out (approx. 20 minutes).
2
Melt the butter in a large saucepan on the stove.
3
Bring a large pot of salted water to a simmer.
4
Add a pinch of salt (or truffle salt) and the minced shallot. Cook until the shallot is tender (2-3 minutes).
5
Cook the pasta in the simmering water.
6
Add the white wine. Turn the heat up and cook until the butter solids have browned (it will smell nutty and if you put a little sauce on a white plate, you should see brown specks) and the shallots have started to brown.
7
Toss the chives, porcini slices (if using them) and cooked agnolotti in the sauce. Serve.