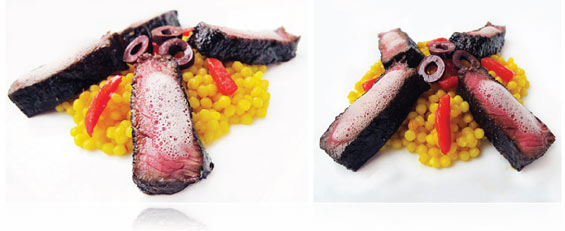 Pomegranate Molasses and Grains of Paradise Grilled New Zealand Striploin Steaks, Saffron Pearl Couscous with Olives and Pimentos, Black Olive Foam
In this preparation, the New Zealand Striploin steaks are marinated in a mixture of Pomegranate molasses and Grains of Paradise, an aromatic spice native to West Africa similar to black pepper. The resulting grilled steaks are juicy and very flavorful. These steaks are served with saffron pearl couscous, olives and pimentos. The black olive foam made from the leftover olive brine is an excellent finishing touch for this dish.
Ingredients:
Steaks
1 cup Pomegranate molasses
1/4 cup Balsamic vinegar
1/4 cup Grains of Paradise, crushed
1 clove garlic, finely chopped
1/2 teaspoon ground cardamom
Salt to taste
4 Grass Fed Beef Striploin Steaks, about 1/2 inch thick
Couscous
Israeli pearl couscous
Pinch of Spanish saffron
Butter, salt to taste
1 tablespoon butter
1/2 cup Kalamata olives, sliced
2 tablespoon pimentos, finely chopped
Black olive foam
1/3 cup brine juice from black Kalamata olives
1 teaspoon lecithin
Directions:
Steaks
1. In a bowl, combine Pomegranate molasses, Balsamic vinegar, Grains of Paradise, garlic, cardamom, and salt. Place the steaks in a plastic bag, pour the marinade over, and seal tightly.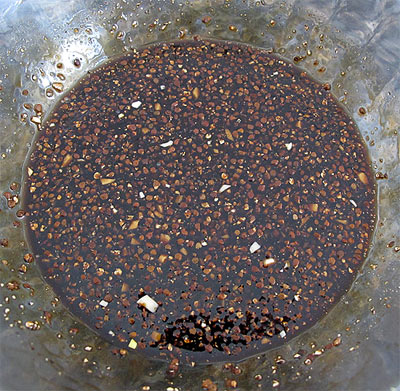 2. Refrigerate to marinate for at least three hours.
3. Grill the steaks until desired doneness, about 2-3 minutes per side for medium rare.
Saffron Pearl Couscous
1. Prepare the Israeli pearl couscous according to instructions, but add a pinch of saffron to the water before boiling. Once cooked,  mix in a little bit of butter.
2. Melt butter in a skillet over medium-high heat. Add olives and pimentos and cook for about a minute just until the olives are warmed through.
Black Olive Foam
1. Place the black olive brine and lecithin into a mixing cup and blend with an immersion blender on an angle, until the foam forms on top. Let it sit for 5 minutes.
To Assemble:
1. Place a round of saffron pearl couscous in a middle of each plate, top with olives and pimentos.
2. Slice the steaks and arrange the slices around the couscous.
3. Top each steak slice with a little bit of black olive foam.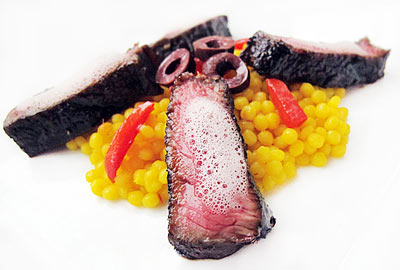 Recipe Development & Photography by Natasha Price, 5 Star Foodie
___________
Browse More:
Beef Recipes
Steak Recipes
Couscous Recipes
Saffron Recipes