Pomegranate & Chile Glazed Duck Breasts
Makes 2 Servings
WINE PAIRING
Oregon Pinot Noir Wine
Rendered & seared duck breasts glazed with a fruity, herby sauce with a bit of heat, served over a creamy celery root puree.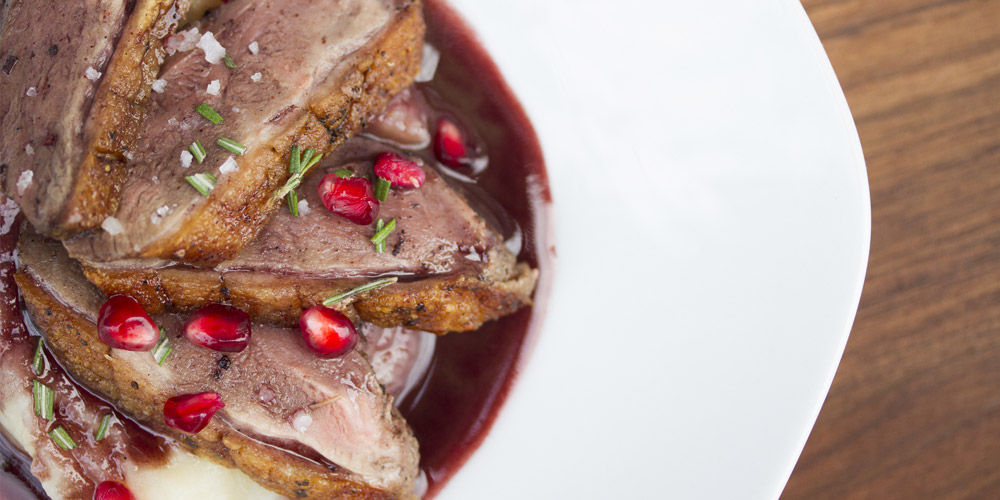 INGREDIENTS
Celery Root Puree:

1 Medium Celery Root, Large Diced (approx. 2 cups)

4 cups of Water

½ tbsp Salt
DIRECTIONS
1
Remove the arils (seeds) from the pomegranate.
2
Take ½ of the arils and chop them in a food processor, then strain the juice through a fine mesh sieve.
3
Put the diced celery root in a pot with the 4 cups of water & ½ tbsp. of salt. Bring the liquid to a boil, then reduce to a simmer and simmer until the celery root is tender.
4
When the celery root is tender, drain off all but a ¼ cup of the liquid. Put the celery root chunks in a blender with the remaining liquid and puree.
6
Season both sides of the duck with salt & pepper.
7
Get a large frying pan or cast iron skillet hot over medium heat with the tablespoon of oil. Add the duck breasts, fat-side down. Sear until they start to sizzle, then turn the heat down to medium-low and render the fat out over about 15 minutes.
8
Remove all but a tablespoon of the duck fat from the pan (save it for
other recipes
!).
9
Add the rosemary sprigs to the pan & sprinkle the meat-side of the breasts with the ancho chile powder. Flip the duck breasts. Add 1/3 cup of the pomegranate juice & the red wine. Cook the duck for 2-3 minutes for Medium Rare (internal temperature of 125 degrees).
10
Remove the duck from the pan, but continue to cook the liquids until they reduce enough to coat the back of a spoon.
11
Whisk the butter into the glaze until incorporated. Add salt to taste.
13
Put the celery root puree on plates. Top it with the sliced duck, then finish with the pomegranate wine glaze.
14
Finely mince some rosemary leaves. Sprinkle some of the remaining pomegranate arils and some minced rosemary on the duck & puree. Serve.