Prosciutto-Wrapped Quail, Orange Blossom-Scented Polenta & a Pan Sauce
Makes 4 Servings
WINE PAIRING
Oregon Pinot Noir
This dish features prosciutto, ras el hanout & orange blossom water.  While that may seem like a culinary culture clash, we promise the results are delicious.  Meaty prosciutto-wrapped quail with plump stock-infused plums and lightly orange blossom scented, creamy polenta…yum!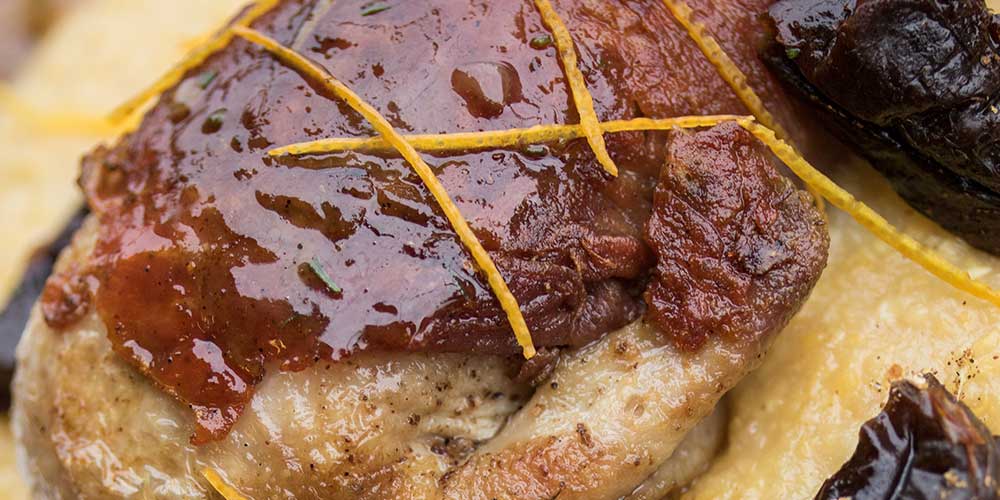 INGREDIENTS
1 tsp Ras el Hanout

4 thin slices of Prosciutto

Thinly Sliced Orange Zest

Salt
Infused Stock:
1 cup Chicken or Roasted Rabbit Stock

1/8th tsp Orange Blossom Water

1 Cinnamon Stick

1 strip Orange Zest

12 Dried Plums
Polenta:

3 1/2 cups Chicken or Roasted Rabbit Stock

1 cup Medium Grind (Regular) Dry Polenta

1/2 tsp Salt, plus extra to taste

2 tbsp Unsalted Butter
Pan Sauce:

¼ cup minced Shallot

Splash of Cointreau

¼ cup White Wine

1 tsp chopped Thyme

Squeeze of Orange Juice

3 tbsp Unsalted Butter

½ tsp Ras el Hanout
DIRECTIONS
1
Infuse the Stock: Pour the cup of stock into a small saucepan with the cinnamon stick, plums, orange blossom water and orange zest.  Bring the liquid to a boil, then remove the pot from the heat and let infuse for 30 minutes.
Strain the liquid & reserve it and the plums.
2
Season the insides & outsides of the quail with a small amount of salt (less than you would normally use for poultry) and the ras el hanout.
3
Roll each quail around itself in so it plumps up and looks like a bone-in quail.  Cross the legs.  Then roll each quail in a slice of prosciutto.  Pull the wings out from under the prosciutto layer (so diners will be able to see them).
4
Make the Polenta: heat the remaining stock in a large sauce pot on the stove with the salt.  Rain in the polenta, whisking constantly.  Continue to whisk on the heat until the polenta has thickened and is cooked through.
5
When the polenta has cooked, whisk in the infused stock and the butter.  Taste & add additional salt & orange blossom water to taste.
6
Heat a large, oiled cast iron skillet over high heat on the stove.
7
Sear the quail in the skillet, gently turning as the meat releases from the pan, until they develop a nice brown crust & are cooked through.
8
Remove the quail from the pan and add the shallot to the residual fat.  Reduce the heat and
sweat
the shallots until translucent.
9
Deglaze the pan with the Cointreau, white wine & orange.  Add the thyme.  Simmer until the liquid has reduced to a sauce consistency.  Remove the pan from the heat & swirl in the butter. Add the ras al hanout & salt to taste.
10
Halve the rehydrated plums.
11
Serve each plate with a quail over the polenta, finished with the sauce, sliced orange zest and eight plum halves.