Poached Baby Artichokes with Cheese & Herbs
Baby artichokes are a more delicate and elegant alternative to the full-sized variety. In this tasty side dish we've paired them with vinegar, herbs and parmesan cheese. For a more basic alternative, check out this poached baby artichokes recipe.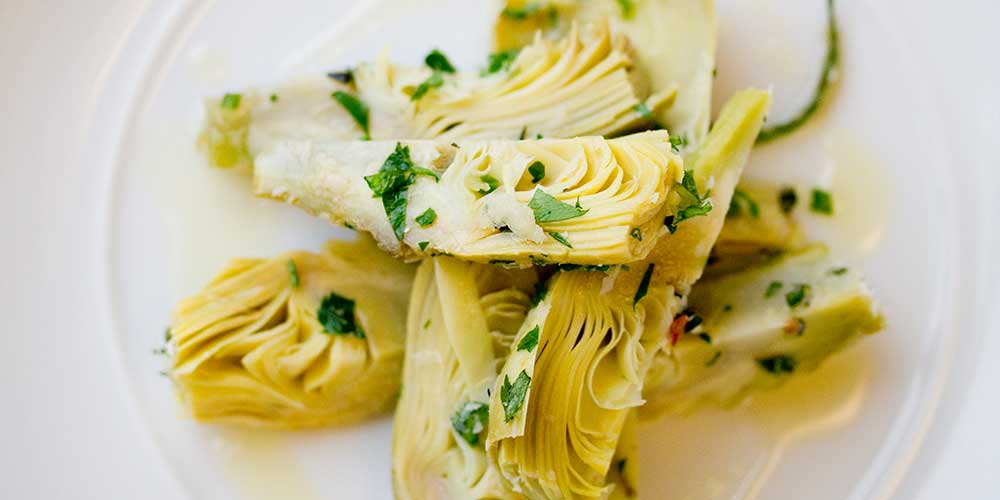 INGREDIENTS
½ Lemon

Additional ½ of a Lemon's Juice

1/3 cup White Vinegar

1 tbsp Salt

½ bunch Italian Flat Leaf Parsley

1 tbsp Fine Extra Virgin Olive Oil

1 tbsp chopped Fresh Chive

½ tsp chopped Fresh Thyme

1 tbsp Tarragon Leaves

1 tbsp Sherry Vinegar

2 tbsp Parmigiano Reggiano, finely grated or microplaned

1 tbsp Flat Leaf Parsley, chopped

Fine Extra Virgin Olive Oil
DIRECTIONS
1
Combine the flat leaf parsley, salt, vinegar, artichokes and enough water to cover in a large stock pot. Squeeze the juice from the lemon. Add it and the squeezed fruit to the pot.
2
Cover the pot and bring the water to a simmer. Gently
simmer
until the artichokes are tender.
3
Remove the artichokes to a baking dish and let them cool until they're safe to handle. Remove the dark green outer leaves, tough dark green inner leaf tops and the stems. You should be left with just the light green/white inner portions.
4
Toss the cleaned artichokes with the chives, olive oil, thyme, tarragon, sherry vinegar, flat leaf parsley, parmesan cheese and additional ½ lemon's juice.
5
Finish with a drizzle of extra virgin olive oil. Serve.