Plum-Glazed Kurobuta Pork Tenderloin
This is an easy, weeknight meal that's sure to wow. Artisanal jam is already packed full of flavor, pork tenderloins are simple to prepare and practically ready to cook right out of the package.
Don't discount the onions as filler either – once they caramelize and catch the pork drippings they're transformed into pure deliciousness. During our photo shoot people were at least as excited about them as they were the pork!
This recipe can easily be cut in half to produce 2-3 servings from only one tenderloin…you might want to roast the same quantity of onion to have extra.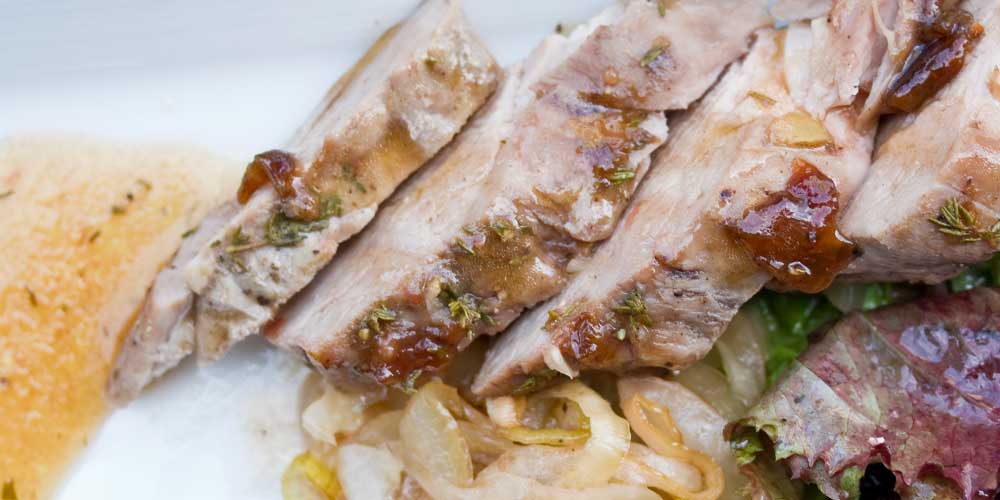 INGREDIENTS
1/3 cup Spiced Plum Jam (could substitute plain plum jam and ground Autumn spices)

1 tbsp Fresh Thyme Leaves (could substitute 1 tsp dried thyme)

1 Yellow Onion

Olive Oil

Salt & Pepper
DIRECTIONS
1
Preheat your oven to 375˚F.
2
Trim any silver skin off of the surface of the tenderloins.
3
Peel the onion, cut it in half and thinly slice both halves.
4
Sprinkle the onion across the bottom of your baking dish or roasting pan. Drizzle 2 tbsp of olive oil over the pieces along with salt & pepper. Toss them to coat.
Optional: If you prefer thicker slices or a softer texture, you can put the onion slices in the oven for 15 minutes before adding the pork, which will help cook them through.
5
In a small bowl combine the plum jam, ¼ tsp of salt, thyme and black pepper to taste.
6
Sprinkle the pork tenderloins with salt & pepper. Rub them with olive oil.
Optional: For even better flavor, salt and pepper the pork tenderloins in the morning of the day you will be cooking them, then wrap them and put them in the refrigerator until you need them.
7
Spread half of the glaze on top of the tenderloins in a thin layer.
8
Put the tenderloins on top of the onion bed, glaze-side down.
9
Brush the other side of the tenderloins with a thin layer of the rest of the glaze.
10
Roast the tenderloins in the oven until they're cooked through (check it in 15 minutes). When they reach an internal temperature of 145˚F, they're done!
11
Remove the pan from the oven and let the tenderloins rest for 10-15 minutes (lightly covered with foil) before slicing or serving.
Variation: This same technique (with modified cooking times) can be used for pork roasts or fish fillets.
Recipe by Rebecca Staffel of Deluxe Foods