Makes 4 Servings
WINE PAIRING
Riesling
Tender, juicy poussin in a Basque-inspired sweet garlicky sauce with a little kick. Yummy!
Steps 1-4 can be done up to a day ahead to save time later.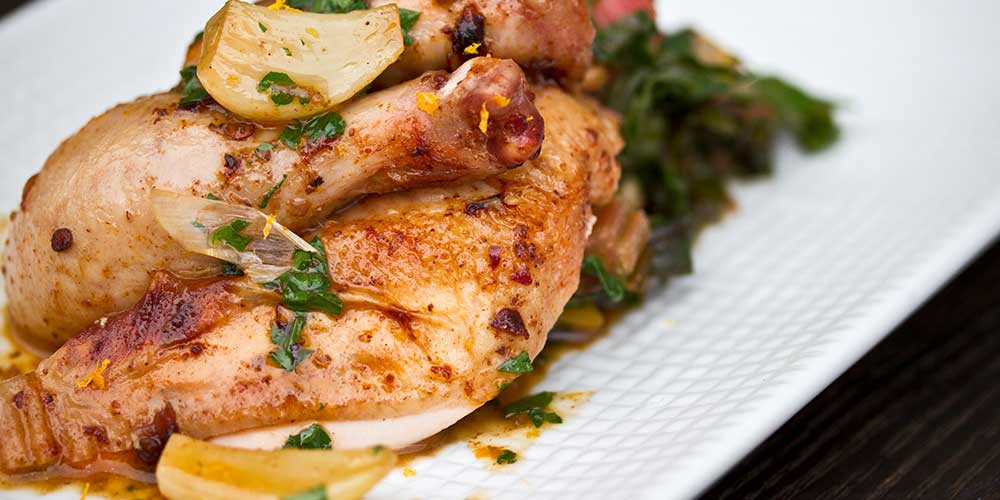 INGREDIENTS
1 bulb of Garlic, cloves separated & skins removed
1 cup Olive Oil
1 tbsp Chile Flakes
½ cup Lemon Juice
1 tbsp Sumac
1 tbsp Smoked Paprika
1 tbsp Flat Leaf Parsley Leaves
1 cup Chicken Stock
DIRECTIONS
1
Put the garlic cloves in the olive oil in a pot over low heat. Steep for 45 minutes.
2
Strain out the garlic cloves (save them) & return the oil to the stove. Cook the oil over medium-low heat, adding the red chile flakes and simmering them until they've toasted.
3
When the chile flakes have toasted, remove the oil from the heat and add the lemon juice. Be careful, the oil will likely splatter a bit.
4
Let the oil mixture cool completely. Put half of it and the sumac, paprika and six of the garlic cloves in a blender. Blend into a puree.
5
Preheat your oven to 450 degrees.
6
Rub the poussin with the blended oil mixture. Put them in a roasting pan or oven-safe frying pans. Roast them until the meat reaches an internal temperature of 160 degrees.
7
Remove the pan from the oven and move the poussin to a separate dish to rest.
8
Deglaze the roasting pan with chicken stock, scraping up all of the browned bits on the bottom (fond). Simmer to reduce until the sauce coats the back of the spoon.
9
Stir the remaining garlic cloves and flat leaf parsley into the sauce.
10
Serve the poussin with the sauce and your choice of sides.