Pheasant Sausages w/ Pear Butter Mostarda
Specialty game sausages bring a lot of flavor to the table, but do benefit from a little bit of sauce, jus, or mustard. If you have artisanal jam and mustard handy, a mostarda-style sauce is just moments away.
While we've used pheasant sausages here, you could substitute a different variety – especially one based on other poultry, pork or wild boar.
Likewise, while this recipe cooks the sausages on the stove top, they would also be delicious grilled!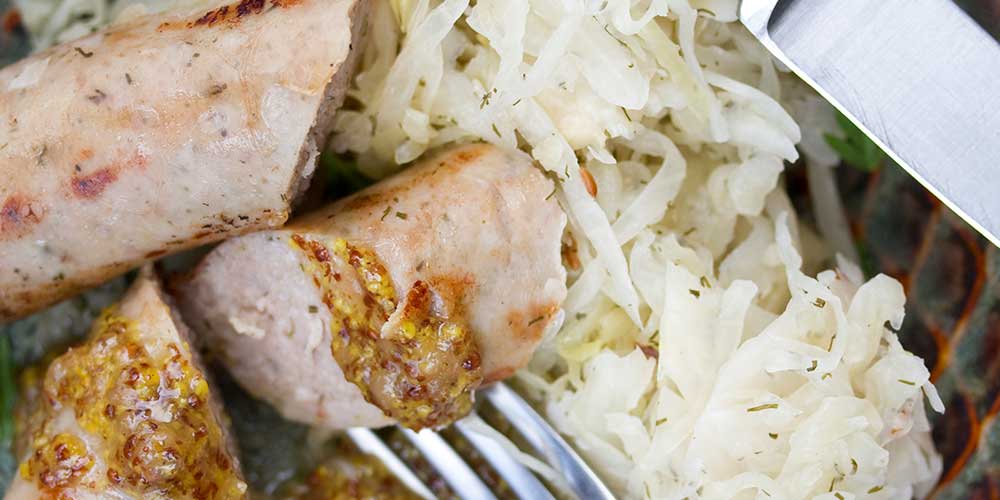 INGREDIENTS
Mostarda:

1 tsp Honey Wine Vinegar (could substitute other vinegar)

2 tbsp Pear Butter with Vanilla (could substitute other Pear Jam)

2 tbsp Dijon Mustard

1 pinch of Salt
Recommended Side:

Sauerkraut
DIRECTIONS
1
Get the water hot in a large frying pan over medium-high heat. Add the sausages. Poke each sausage once or twice with a knife. Put the lid on the pan and let the water simmer for four minutes.
2
Flip the sausages, re-lid the pan, and continue to simmer for four minutes.
3
Remove the lid and let the water evaporate. Continue to cook the sausages to brown them, turning as necessary.
4
Make the Mostarda: Mix together the pear butter, mustard, salt and honey wine vinegar in a small bowl.
5
Serve the sausages with the mostarda and your side of choice (we used Midori Farm Dill & Caraway Kraut).
Recipe by Rebecca Staffel of Deluxe Foods