Pheasant Breasts "Saltimbocca" with Asparagus
Makes 4 Servings
WINE PAIRING
Syrah
Saltimbocca is an Italian dish (often involving veal) in which thin pieces of meat are wrapped with sage leaves and prosciutto before being pan fried. Here's our version made with pheasant breasts.
The prosciutto creates a crispy, pork-y skin around the still-moist pheasant breasts which have a zing ("saltimbocca" translates to "jump in the mouth") from the sage.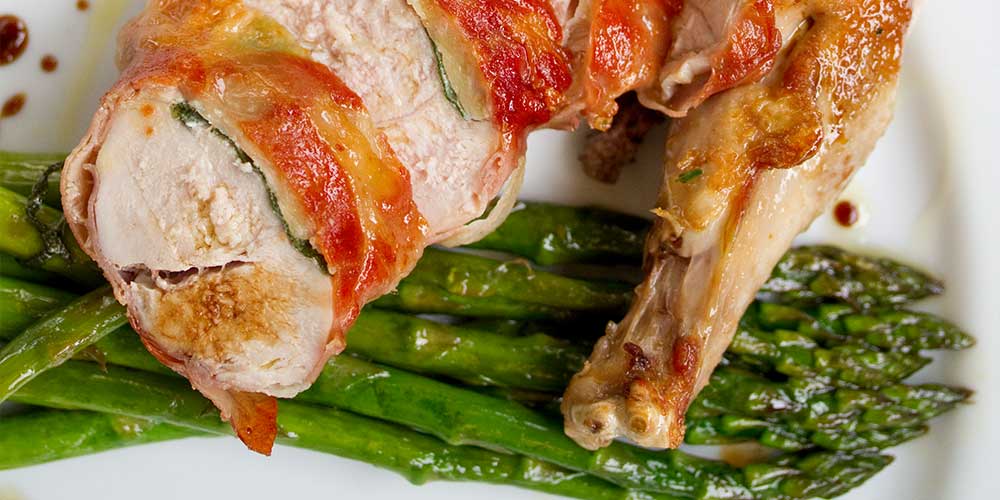 INGREDIENTS
12 large Fresh Sage Leaves

1 tbsp Fresh Sage Leaves, cut chiffonade

8 Slices of Prosciutto

¾ lb Asparagus

1 pinch Salt

3 tbsp Chicken Stock

Parmigiano Reggiano, shaved
DIRECTIONS
1
Preheat your oven to 450 degrees.
2
Trim the woody ends off of the asparagus and discard.
3
Lift the skin on the pheasant breasts and put three sage leaves under each one.
4
Lay two prosciutto pieces on a board, slightly overlapping, to create a sheet wide enough to cover the breast. Wrap a pheasant breast in the prosciutto.
Repeat with the rest of prosciutto & breasts.
Note: You can do this the night before & store the breasts wrapped in plastic wrap or vacuum packed (which adheres to the prosciutto to the pheasant particularly well).
5
Heat a shallow layer of olive oil in a large cast iron skillet or stainless steel frying pan over medium-high heat.
6
Gently lay in the pheasant breasts, skin-side down. Flip when a golden-brown crust is formed and the prosciutto releases from the pan easily.
7
Move the skillet to the oven and
roast
to an internal temperature of 160 degrees. Then remove the skillet from the oven and move the pheasant breasts to a clean plate to let them rest.
8
Add the asparagus to the remaining oil & fat in the skillet. Toss to coat with the fat. Add the chicken stock, sage and a pinch of salt. Cook until the asparagus is bright green & tender.
9
Put the pheasant breasts atop the asparagus. Top them with parmesan shavings and finish the plate with a drizzle of balsamic vinegar. Serve.