Veal Rack w/ Persimmon Salad & Black Garlic Swirl
Makes 7 Servings
WINE PAIRING
Cotes du Rhone
Tender veal rib chops with a rich parsnip puree, cut with a cool, refreshing persimmon salad.  A swirl of black garlic puree adds deep umami and a certain je ne sais quoi.
Though we've prepared the rack sous vide here, you can also easily adapt this recipe for roasting, or slice the rack into individual chops and pan roast them.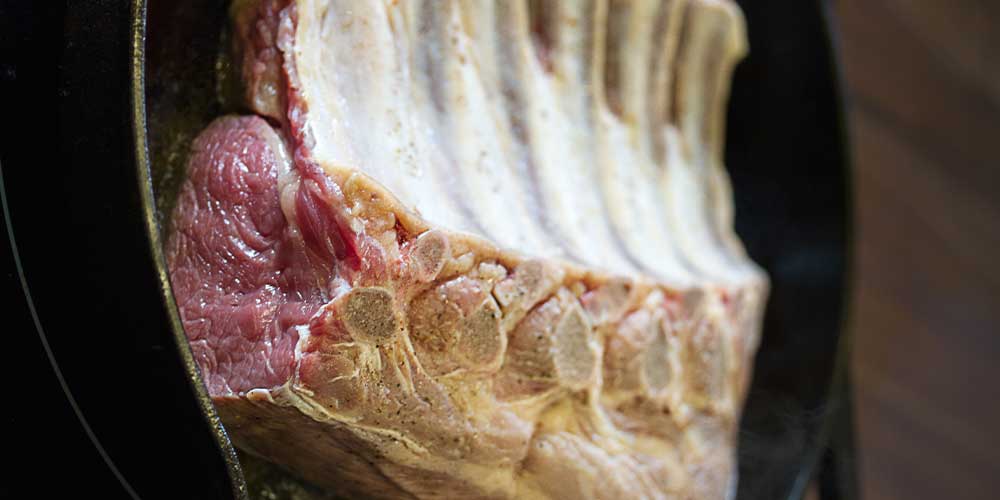 INGREDIENTS
Persimmon Salad:
2 Fuyu Persimmons, peeled & small diced

1 tbsp minced Fresh Mint

2 tsp Extra Virgin Olive Oil

Salt to Taste
Parsnip Puree:

4 Parsnips, Peeled

2 Sticks Unsalted Butter

2 tbsp Salt

2 quarts Water
DIRECTIONS
1
Trim the silver skin from the surface of the rack (
how to remove silver skin
). Trim off the cap meat at the bottom of the rack and remove the silver skin that was hiding beneath it.
2
Preheat your sous vide bath to 132˚F.
3
Pour a cup of high heat oil into a deep pot. Heat until the oil reaches 350˚F.  Add the parsnip strips and fry them until golden brown.
4
Remove the fried parsnips from the oil and put them on a paper towel to drain. Sprinkle them with salt.
5a
Boil four of the parsnips in heavily salted water until tender.
5b
Blend the drained parsnips together with ½ cup of the simmering water.
5c
Melt the unsalted butter in a wide skillet over medium-high heat. Continue to cook until you see brown flecks at the bottom.  Remove it from the heat.
5d
Continue to blend the parsnip puree with a half cup of the browned butter.
6
Put the rack in a sous vide bag or ZipLock brand bag with the two bay leaves and 2 tbsp. of the browned butter. Remove as much air as possible, then close the bag.
7
Put the rack in the sous vide bath. Wait for the water bath to return to temperature and then cook sous vide for two hours.
9
Mix together all the salad ingredients.
10
Peel the black garlic cloves and mash them with a little bit of hot water, until they become a paste.
11
Sear the rack on all sides until develops a brown crust.
12
Slice the rack. Place the chops atop the parsnip puree, then top them with the persimmon salad.
13
Pipe some of the black garlic puree around the plate.
14
Garnish with a few of the parsnip chips.