Pear, Panforte & Pancetta Salad
Crispy, porky pancetta and smooth, rich pears balance the rich spice & fruit flavors of toasted panforte. Making this salad is simple, but the results are sophisticated.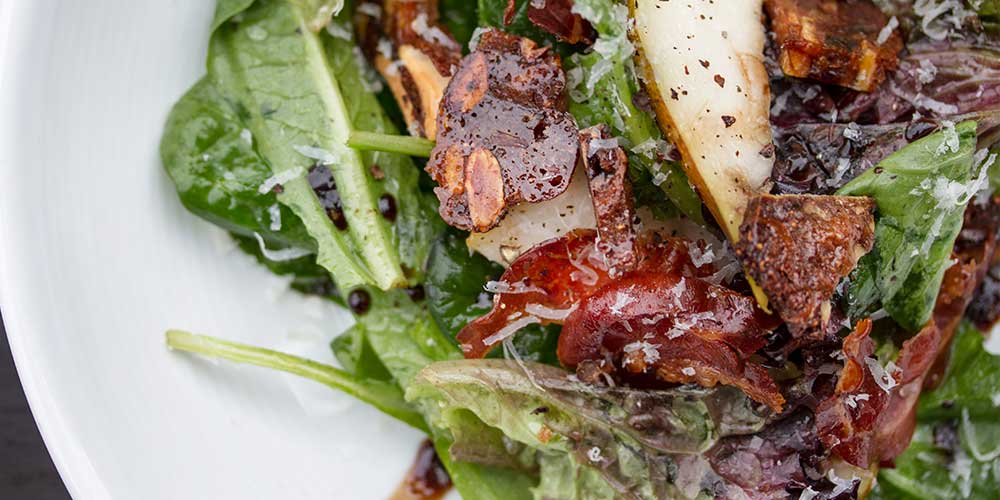 INGREDIENTS
Fresh Pears

Pancetta, thinly sliced

Fig & Walnut Panforte or Panforte Margherita, thinly sliced

Fine Balsamic Vinegar (we used Vigna Oro Vinegar)

Salad Greens of Choice (we used a blend)

Salt & Pepper
DIRECTIONS
1
Preheat your oven to 350°F.
2
Bake the panforte and pancetta on parchment paper on baking sheets/sheet pans. The pancetta should crisp up in about ten minutes, the panforte may take longer (and will stay somewhat soft until it has cooled completely). For tips & toasting photos see
How to Make Panforte Crisps
.
3
Toss the salad greens in a bowl with olive oil, salt & pepper.
4
Just before serving, cut the pears (peeled or unpeeled) into slices or wedges.
5
Put a pile of the dressed salad greens on each plate. Put pieces of pancetta and panforte crisps (whole or crumbled) on top or to the side. Add the pear pieces.
6
Put dots of balsamic vinegar around the salad on the border of the plate. Serve.