Fregola Sarda with Peas, Pea Vines, Balsamic and Pecorino Romano
WINE PAIRING
Vermontino
Fregola sarda is a toasted, extra-chewy Italian version of couscous. It's used a lot in soups, but also makes a nice salad. Here we've paired it with summer flavors of pea vines, mint, and asparagus.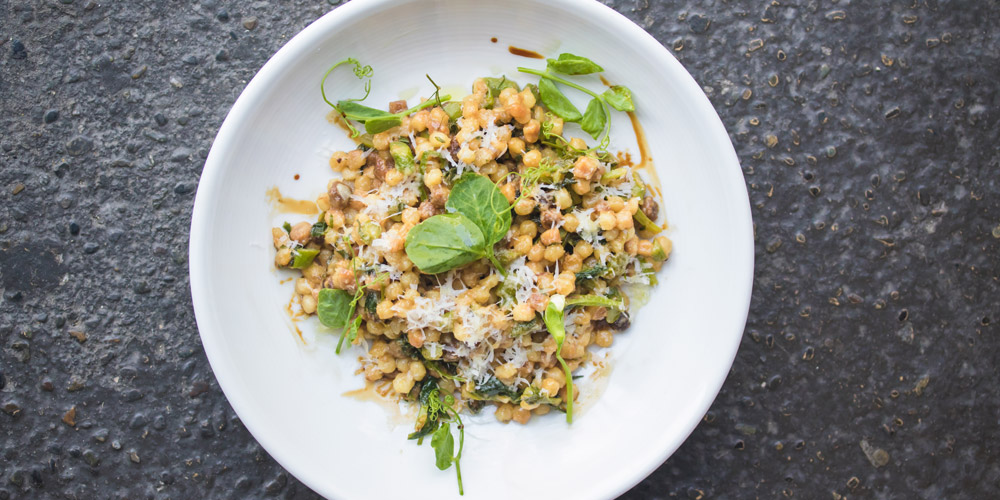 INGREDIENTS
8oz Asparagus, ends removed

¼ cup finely diced Shallot

2 tbsp Olive Oil

3 cups Large Fregola Sarda (could substitute other sizes & reduce cooking time)

2 Garlic Cloves, minced

4 cups Pea Vines, cut into bite-sized pieces

1 tsp Lemon Zest

1 tsp chopped Fresh Thyme Leaves

1 tbsp minced Fresh Mint Leaves

4oz Pecorino Romano Cheese, finely grated (ideally microplaned)

5 tbsp Olive Oil

2 tbsp Vigna Oro Balsamic Vinegar

2 tbsp White Wine

1 tbsp Lemon Juice

¼ tsp Black Truffle Salt

Salt

Ground Black Pepper

Fine Extra Virgin Olive Oil (we used First Day Arbequina Olive Oil)
DIRECTIONS
1
Bring a large pot of salted water to a boil.
2
Cut the asparagus on the bias into short, bite-sized lengths.
3
Pour the fregola sarda into the boiling water and cook it for 15-17 minutes, until the pieces are tender, but still toothsome. Strain them out of the water.
4
Pour 2 tbsp of the olive oil into a wide pan or skillet over medium heat. Add the diced shallot & a pinch of salt. Cook for 2-3 minutes.
5
Add the asparagus, garlic and a generous amount of black pepper. Cook for 1 minute, stirring occasionally.
6
Add the chopped pea vines, lemon zest, and thyme. Continue to cook, stirring occasionally.
7
When the pea vines have wilted, remove the pan from the heat.
8
Add the cooked fregola sarda to the pan. Stir in the remaining three tablespoons of olive oil, balsamic, white wine & mint.
9
Return the pan to the stove & cook over medium heat until the wine has evaporated.
10
Remove the pan from the heat and add the lemon juice, truffle salt & cheese. When the cheese has melted, add additional salt & pepper to taste.
11
Serve drizzled with the fine olive oil and a little bit more balsamic vinegar.