Pasta with Sauteed Fresh Mushrooms, Sausage, and Truffle Butter
This recipe uses fresh fettuccini pasta as a bed for fresh porcini mushrooms (you could use any fresh mushrooms) sautéed with game sausage and garlic, then topped with seasoned bread crumbs and black truffle butter at the last second for a truly decadent result. If you don't eat meat, you can simply cut the sausage from the recipe for a vegetarian version.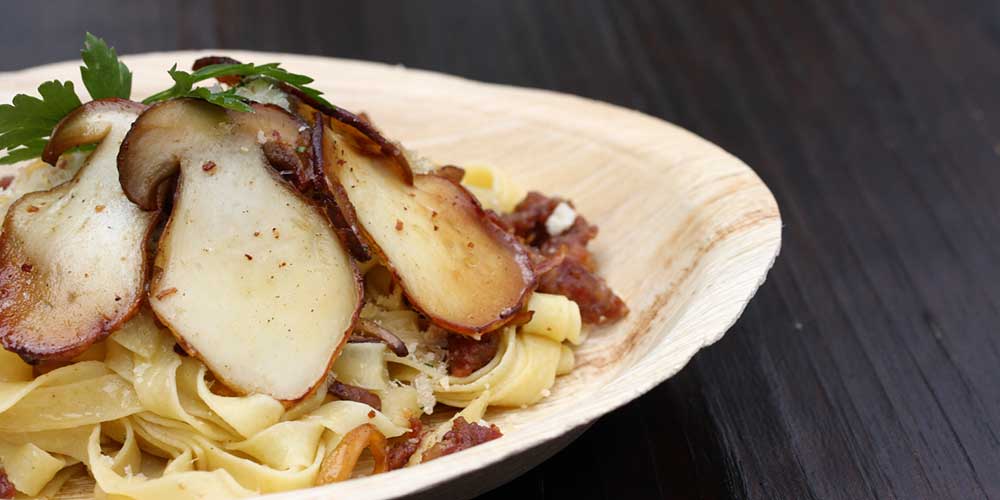 small caption below main image. needs to be manually inserted. small caption below main image. needs to be manually inserted.
DIRECTIONS
1
Start a pot of salted water boiling for the pasta.
2
Cut the porcinis into thin sticks. As we did in the photo, you can also reserve some whole porcinis, slice them thinly and gently sauté them in a separate pan for use in the final presentation on top.
3
Finely dice the parsley and toss it with the bread crumbs, salt & pepper.
4
Finely dice the garlic clove. Remove the sausage from its casing, crumble the meat, and
sauté
it with the garlic in an oiled frying pan.
5
When the sausage has cooked, remove it from the pan and sauté the porcinis in the remaining fat. Cook the pasta in the boiling water according to the manufacturer's instructions.
6
Toss the hot pasta with the sausage, garlic, and porcini mushrooms. Plate and top with a dollop of truffle butter, the seasoned bread crumbs and freshly grated parmigiano reggiano.