Pan-seared Quail with Mole Sauce
Makes 3-6 Servings
WINE PAIRING
Spanish Garnacha
Delicate, tender quail floating on a layer of earthy, sweet, spicy, rich mole. Don't let the number of ingredients in the mole sauce scare you, the recipe is very simple and the results are delicious.
Serve one quail per person for six light meals or appetizers, or two quail per person for full entrées.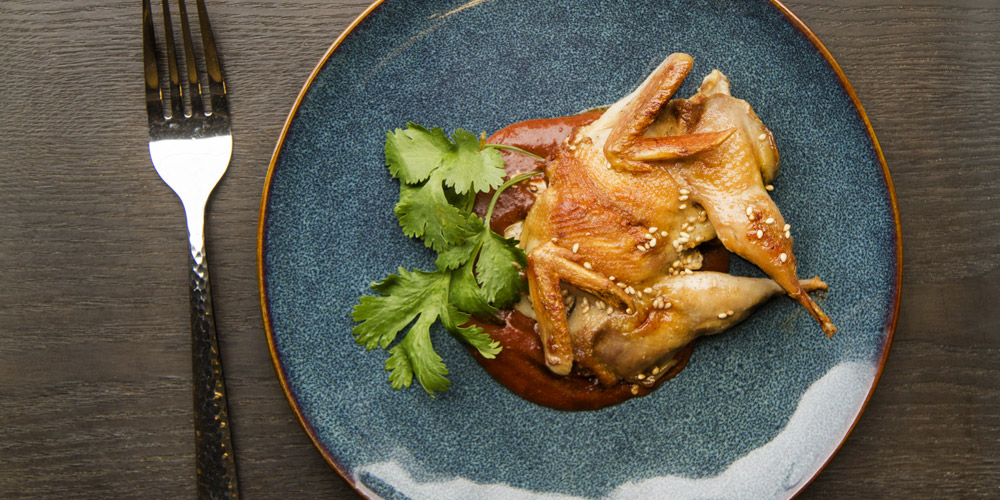 INGREDIENTS
Fresh Cilantro

Sesame Seeds, Toasted

Lemon

High Heat Oil (Canola, Grapeseed, Safflower, etc)

Salt & Pepper
Mole

2 + 2 tbsp High Heat Oil (Canola, Grapeseed, Peanut, etc)

10 Crackers (saltines or whatever other basic crackers you've got around)

1 Corn Tortilla, torn into pieces

¼ cup Semi-Ripe Plantain, cut into disks

2 tbsp Shelled Pumpkin Seeds

2 tbsp Almonds

2 tbsp Raisins

4 Whole Tomatoes (canned or fresh)

2 tsp Sesame Seeds

2 tsp Salt

¼ cup Brown Sugar

¼ cup Ibarra Chocolate

1 tbsp Ground Cinnamon

3 cups Chicken Stock

Lemon Juice to Taste
DIRECTIONS
1
Combine the chilies and 2 tbsp of the high heat oil in a wide skillet. Toast the chilies, tossing occasionally, until they are aromatic & coated with the oil, then remove them from the pan.
2
Add the pumpkin seeds, almonds, plantain, corn tortilla, and crackers to the pan. Toss them in the oil, stirring occasionally, for 3-5 minutes, until the pumpkin seeds pop and the plantain has started to brown.
3
Tear the stems off the chiles & pour out the seeds. Discard both the stems and seeds
4
Combine all the mole ingredients in a blender except the lemon juice and remaining 2 tbsp of high heat oil. Blend to a smooth puree.
5
Put the 2 tbsp of oil into a wide skillet. Pour in the mole. Pour 1 cup of water into the blender and blend to pull the remaining mole off of the sides and into the water. Pour the water into the skillet.
Simmer the mole over medium-high heat for 20 minutes, until it darkens and thickens. Season it with additional salt and lemon juice to taste.
6
Preheat your oven to 400°F.
7
Dry off the quail & season them with salt & pepper.
8
Brown the quail, skin side down, in an oiled skillet over medium-high heat in batches.
9
Once all the quail have browned, flip them meat-side down and roast them in the oven until the meat is a light pink (an internal temp of 150°F).
10
Serve the quail with the mole, garnished with cilantro, toasted sesame seeds and lemon wedges.