Pan Roasted Trout with Herb Salad and Persillade
Makes 2 Servings
DRINK PAIRING
New York State Riesling or Sake
In this simple, yet incredibly delicious dish, buttery trout is paired with a zesty persillade sauce and a fresh herb salad.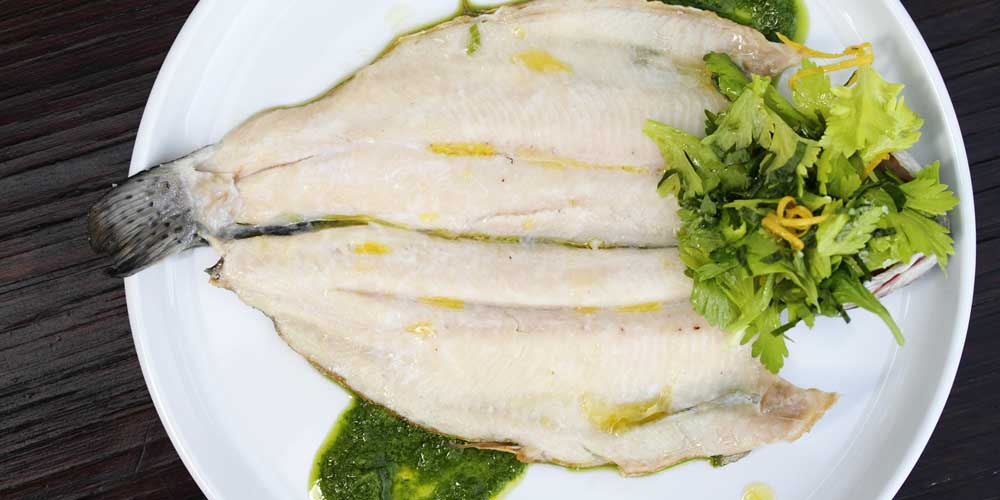 INGREDIENTS
1 butterflied Rainbow Trout

2 tbsp Celery Leaves

1 ½ bunches of Fresh Parsley

Leaves of 1 sprig Fresh Thyme

1 tbsp Thai Basil, cut in a chiffonade

1 splash of Champagne Vinegar

1 clove of Garlic, rough chopped

Zest of 1 Lemon + 1 tsp for salad

1 tsp fresh squeezed Lemon Juice, plus extra for dressing trout

Olive Oil for cooking + 1 tsp for salad
DIRECTIONS
1
Make the Persillade: In a blender, combine the zest, lemon juice, parsley, vinegar and garlic with just enough oil to bring the mixture together.
2
Preheat your oven to 375 degrees.
3
Lay the trout skin-down in a hot cast iron skillet with oil over medium heat. Cook until the skin has crisped and browned.
4
Move the skillet to the oven and cook until the trout flesh has turned opaque (about 3-4 minutes).
5
In a bowl toss together the Thai basil, thyme leaves, celery leaves, teaspoon each of lemon juice, olive oil & lemon zest. Add salt to taste.
6
Decorate the plate with about 2 tbsp of the persillade, then lay the cooked trout on top. Drizzle a little of the extra lemon juice over the top of the trout.
7
Add the herb salad to the plate, and drizzle your best extra virgin olive oil over the salad and fish to finish. Serve.