Oyster Chowder with Bacon, Potatoes, Fennel & Chives
Makes 4 Servings
WINE PAIRING
Chenin Blanc from Vouvray or Gruner Veltliner from Austria
A very light chowder (even if you include the cream) that showcases the fresh ocean flavor of oysters delicately cooked to that they are still incredibly tender.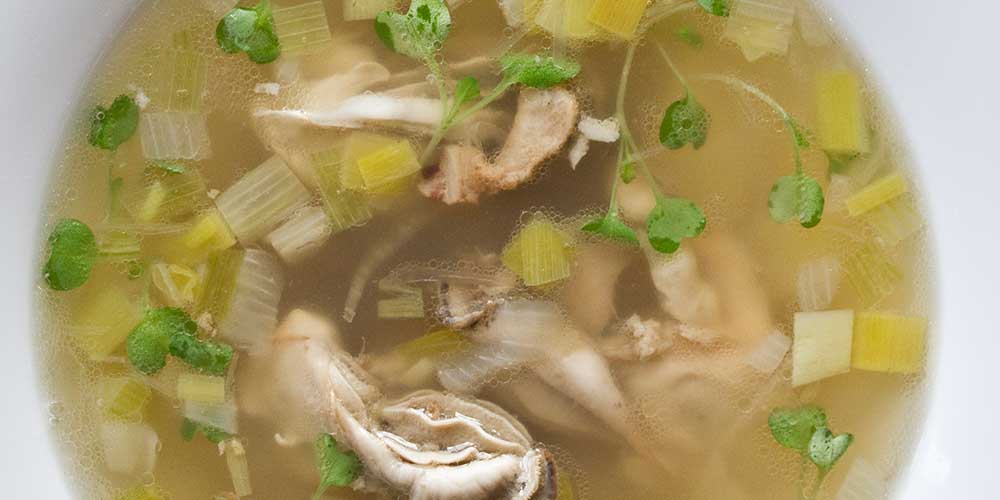 INGREDIENTS
½ Fennel Bulb, halved & thinly sliced

1/8lb Shucked Pacific Oyster Meat (preshucked or from live oysters. Can add more if desired)
4 strips Mangalitsa Bacon, cut into batons (could substitute kurobuta, wild boar, or conventional bacon)
2 quarts Fish Stock

1 large Potato, large diced

1 Onion, small diced

1 Leek, small diced

2 tsp Meyer Lemon juice (could substitute conventional lemon)

1 cup Heavy Cream (optional)

Micro Wasabi to garnish (optional)

Salt & Pepper to taste
DIRECTIONS
1
Render the fat out of the bacon over low heat.
4
Add the fish stock & potatoes. Simmer until the potatoes are tender.
5
Reduce the heat to low and add the oysters and meyer lemon juice. Cook until the oysters turn opaque.
6
Optional: Stir in the cream.
7
Taste for seasoning, then add salt & pepper.
8
Garnish with micro wasabi greens if desired. Serve.