Veal Osso Bucco with Green Olives, Roasted Tomatoes & Black Garlic
Makes 4 Servings
WINE PAIRING
Chinon
Exquisitely tender with bold flavors of veal, olive, tomatoes & black garlic, this simple braise gives you extraordinary results.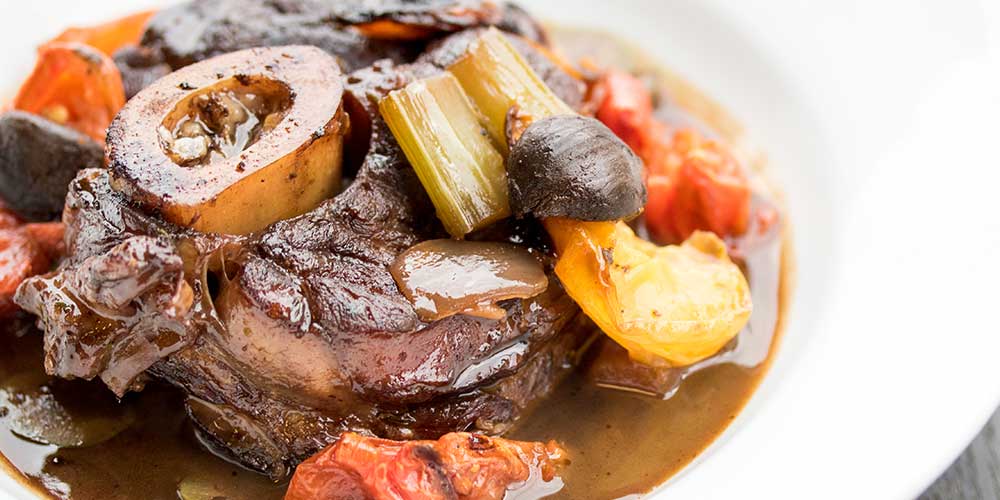 INGREDIENTS
4 pieces Veal Osso Bucco

1 cup Castelvetrano Olives

1 Onion, medium diced

3 stalks Celery, medium diced

3 Carrots, large diced

2 Bay Leaves

6 sprigs of Thyme

1 cup Red Wine

1 bulb Black Garlic

2 cups Chicken Stock/Broth (lowest sodium possible)

1lb Tomatoes, cored & quartered (if small) / cut into eighths (if large)

2 tbsp of Olive Oil
DIRECTIONS
1
Tie tight loops of butcher's twine around each piece of osso bucco to hold the meat to the bone (this improves your final presentation). Season each piece with salt & pepper, then sear them in an oiled deep stock pot, turning occasionally, until they develop a nice brown crust on all sides.
2
Unwrap the cloves of black garlic from the bulb.
3
Cut the meat off of the olive pits (snack on the pits with the meat still clinging on them!).
4
Preheat your oven to 300°F (convection if possible).
5
Put the tomato pieces on a baking sheet. Drizzle them with the olive oil and sprinkle them with black truffle salt.  Toss to coat.  Move the baking sheet to the oven & roast the tomatoes for an hour.
6
Remove the osso bucco from the skillet, then add the carrots, celery & onion to the residual fat in the pan.
7
Deglaze the pot with the red wine, scraping the bottom to release the
fond
. Return the osso bucco pieces to the pot along with the olive pieces, bay leaves & thyme.  Add the chicken stock.
8
Bring the liquid to a simmer, put the lid on the pot & reduce the heat to low. Braise until the meat is fork tender (about 2 hours)
9
Add the roasted tomatoes & any collected juices to the braising liquid. Remove the osso bucco and simmer the braising liquid until it reaches a sauce thickness.
10
Serve the osso bucco with the braising liquid sauce and vegetables.