Orange-Infused Cherry Tart
Makes Enough for One 11″ Tart
This beautiful tart-cherry tart is infused with orange, fortified with cherry seed oil & sweetened with less processed Mexican piloncillo sugar.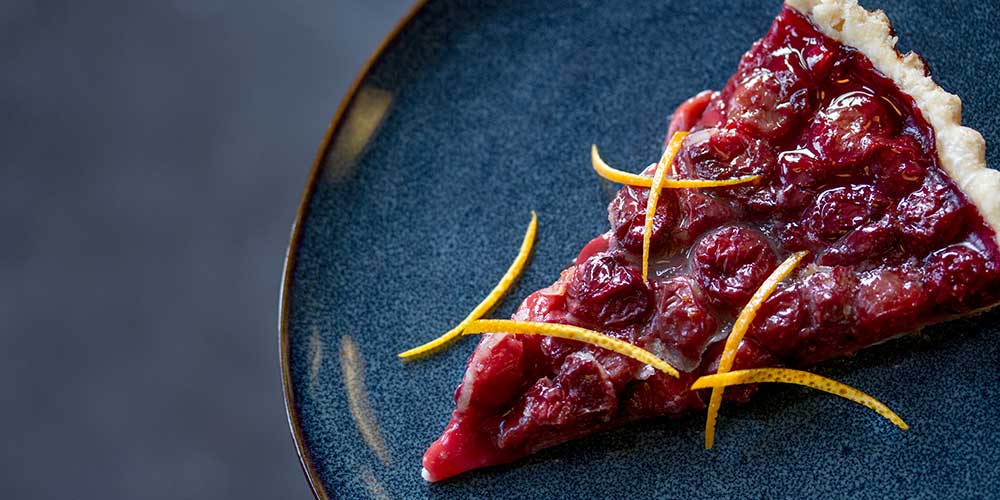 INGREDIENTS
Filling: 

5 cups Frozen Tart Cherries (unsweetened), thawed

1 cup of the Cherry Juice that collected when cherries thawed

1 tbsp Cointreau Liqueur

½ cup + 1 tbsp Granulated Piloncillo

1 tsp Cherry Seed Oil

1 tbsp Orange Zest

1 pinch of Salt

1 ½ tbsp Cornstarch

1 tbsp Cold Butter, cut into cubes
Crust: 

4oz Butter, chilled & cut into cubes

4oz Lard, chilled & cut into cubes

1 tsp Kosher Salt

2 cups All Purpose Flour

Ice Water
DIRECTIONS
1
Mix together the flour and salt in a large bowl.
2
Add the chilled butter & lard.  Press the butter and lard into the flour until it forms floured lumps the size of small peas.
3
Add ice water to the flour, 1 tbsp at a time, mixing with an open hand, just until you're able to bring the dough together into a ball.
4
Split the dough into two balls and press them into disks.  Wrap each disk in plastic wrap.  Chill the dough (15 mins in the freezer or 1 hour in the fridge).
5
Flatten out one of the dough disks and roll it out very thin (approx. 1/8" thick) until it's wider than the top of the tart pan.
6
Gently lift the dough into the pan, letting the dough hang over the edge.  Use a rolling pin to roll over the edges of the tart pan, cutting off the excess.  Use the scraps to fill any holes in the top of the crust.
7
Move the crust (in the tart pan) to the freezer to chill again.
8
Preheat your oven to 375F.
9
Simmer the cherry juice in a small pot on the stove until it reaches a syrup consistency.  When it's reduced to a quarter cup, add the Cointreau, piloncillo, orange zest, pinch of salt & cherry seed oil.
10
Stir in the cherries & corn starch.
11
Pour the filling into the chilled tart shell.  Top the filling with the remaining cubes of unsalted butter (evenly distributed) & sprinkle it with the remaining tablespoon of piloncillo.
12
Put the tart pan on a baking sheet and move it to the oven to bake.
14
Remove the tart from the oven and let cool, then remove it from the tart pan & serve.