Nettle Risotto with Sheep's Cheese and Preserved Lemon
DRINK PAIRING
Soave or California Chardonnay
Melted sheep's milk feta and whipped cream make this risotto exceptionally creamy and luxurious, with the brightness of the preserved lemon and fresh green flavor of the nettles providing balance. If you don't have nettles handy, you could substitute other cooking greens like kale or spinach (although the amount of precooking required will vary).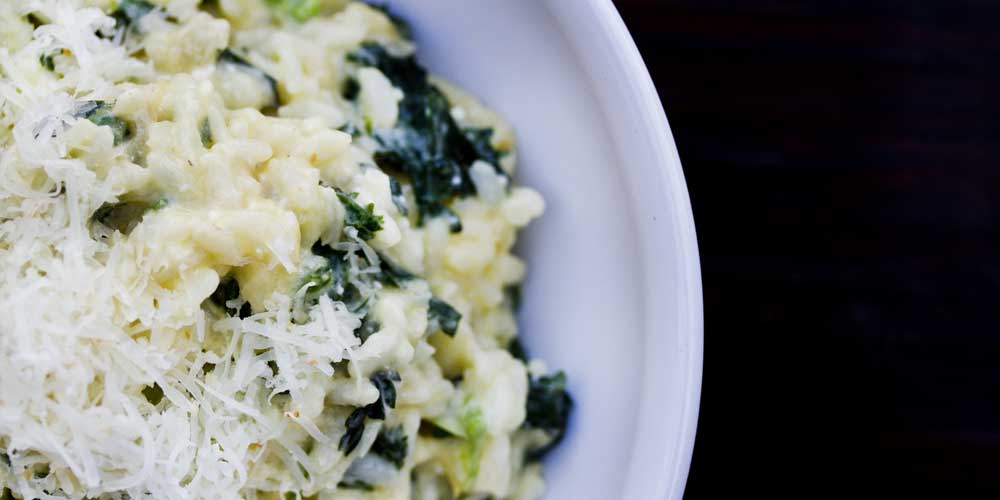 INGREDIENTS
1 ½ cup Carnaroli rice
½ cup Onion, finely diced
1 cup Stinging Nettles, blanched & finely chopped (how to prep nettles)
¼ cup Heavy Cream
3 tbsp Preserved Meyer Lemon, small diced
3oz Valbreso Sheep's Milk Feta, cubed
1 cup grated Hard Sheep's Milk Cheese (we used Ossau Iraty)
1 quart Chicken Stock
1 tbsp Unsalted Butter
¼ cup White Wine
DIRECTIONS
Some New Task of the Recipe:
1
Sweat the onion in oil until translucent.
2
Add the rice and toast while stirring until it becomes semi-translucent and smells slightly nutty.
3
Deglaze the pan with the white wine. Cook until you can no longer smell alcohol.
4
Begin to slowly add the stock in 8oz increments, letting it simmer down almost completely before adding more. Stir occasionally.
6
Taste the rice for texture. When it is about ¾ of the way cooked (still very al dente), add the nettles.
7
Continue to cook & add stock. When the rice is about 90% of the way cooked, stir in the cubed feta and a quarter cup of the hard cheese.
8
When the rice has finished, gently fold in the cream, butter, and preserved lemon. Taste, and add salt, pepper as needed.
9
Serve topped with the remaining grated hard cheese.