Cold Smoked Maitake Mushroom & Veal Congee
A congee is a savory rice porridge.  Here's a recipe for congee topped with seared veal cutlets, an egg yolk for richness and cold-smoked maitake mushroom for extra umami & depth.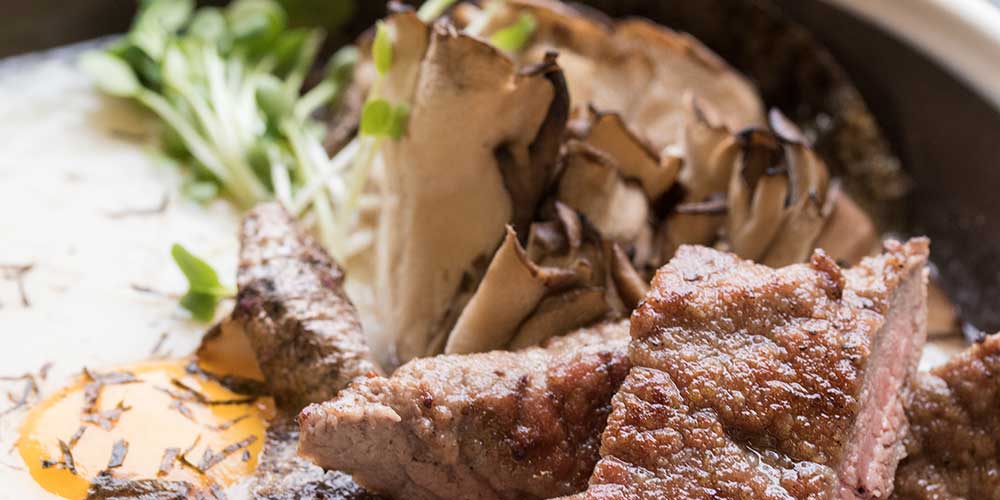 INGREDIENTS
Congee:

1 cup Short Grain Rice

9 cups Dashi Stock

1 tsp Toasted Sesame Oil

1 tbsp Tamari Soy Sauce
Smoked Mushrooms:
1 bunch Fresh Maitake Mushrooms

1 cup Smoking Wood Chips (not Mesquite, we recommend Apple, Cherry or Pecan)
Garnish:

2 sheets Toasted & Seasoned Nori, finely minced

2 Egg Yolks (ideally pasteurized for safety)
Radish Sprouts
DIRECTIONS
1
Combine the rice & dashi in a medium saucepan.  Heat to bring the dashi to a boil, then reduce the heat to medium low & simmer until the rice is VERY tender.
2
Stir in the sesame oil & tamari soy sauce, then cover the pot & keep it warm until you're ready to plate the dish
3
Lightly salt the mushrooms & allow the salt to draw out their moisture.
4
Preheat your oven to 250°F.
5
Put the wood chips in a "dish" made with aluminum foil. Place the dish in a large frying pan or cast iron skillet, off to one side. Light the chips using a strong culinary torch, then let the flames burn out.
6
While the chips are still smoking, put the mushrooms in the other side of the interior of the pan. Cover the pan immediately with a lid or foil & move it to the oven. Let the mushrooms smoke for 20 minutes.
7
While the mushrooms are smoking, pre-heat an oiled frying pan or skillet over medium-high heat. Season the veal cutlets with salt & pepper, dust them with flour on both sides.
8
Sear the veal cutlets in the pan, flipping as necessary, until they reach your desired doneness (we cooked ours to Medium (an internal temp of approx. 150°F), which took about five minutes).
9
Serve bowls of the congee with sliced veal, clusters of maitake mushrooms, an egg yolk in each & some of the radish sprouts.