Makes 2-4 appetizer or 1-2 light entree servings
WINE PAIRING
Pinot Noir from Burgundy or Poulsard/Ploussard from Jura
Creamy, earthy, with a hint of game flavor, this is a very elegant dish that's really easy if you use partially deboned quail. We've paired the quail with a nutty, sweet, and sour walnut sauce.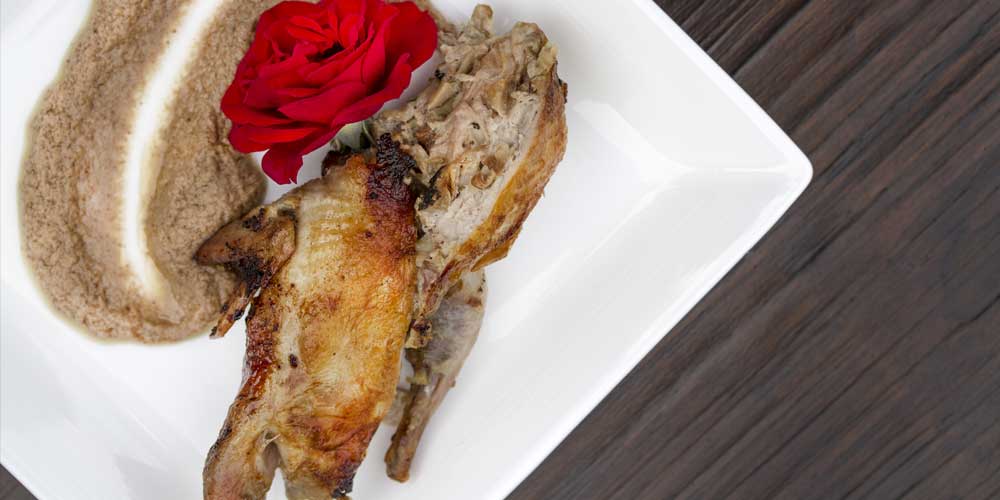 INGREDIENTS
1 Shallot, thinly sliced

¼ cup Balsamic Vinegar

1 cup Walnuts

¼ cup Chicken Stock

¼ cup Olive Oil

Aged Balsamic Vinegar to finish

Wooden Skewers
DIRECTIONS
1
Preheat your oven to 325 degrees.
2
Toast the walnuts on a baking sheet in the oven until slightly darker, crispy, and aromatic.
3
Remove the walnuts, let them cool and turn your oven temperature up to 350 degrees.
4
Sweat the shallot in a pan with a little oil until translucent, deglaze with the balsamic and briefly simmer to reduce to a syrup consistency. Then, blend the balsamic/shallot mixture, walnuts, chicken stock, and olive oil together until smooth.
5
Fill the central cavity of each quail with 1 tbsp of the duxelles and stitch closed with a wooden skewer.
6
Get a thin layer of oil hot in a cast iron skillet on medium and lay the quail in on their backs, until they develop a well seared crust. Then turn them and continue to sear as much of their surface as you can.
7
When the quail have been completely seared, move them (in the skillet) to the oven to roast for about 20 minutes.
8
Once the quail has finished cooking, spread a smear of the walnut sauce on a plate, and put the quail down on top of it. Finish the plate with a drizzle of aged balsamic vinegar. Serve.