Mushroom Pasta Sauce with Lemon Persillade
Makes 4 Appetizer Servings
This pasta sauce recipe contrasts earthy mushrooms and rich butter with a persillade – a blend of raw garlic, flat leaf parsley and lemon zest.
We originally created this sauce to pair with wheat germ porcini tagliatelle, but you could substitute almost any pasta variety.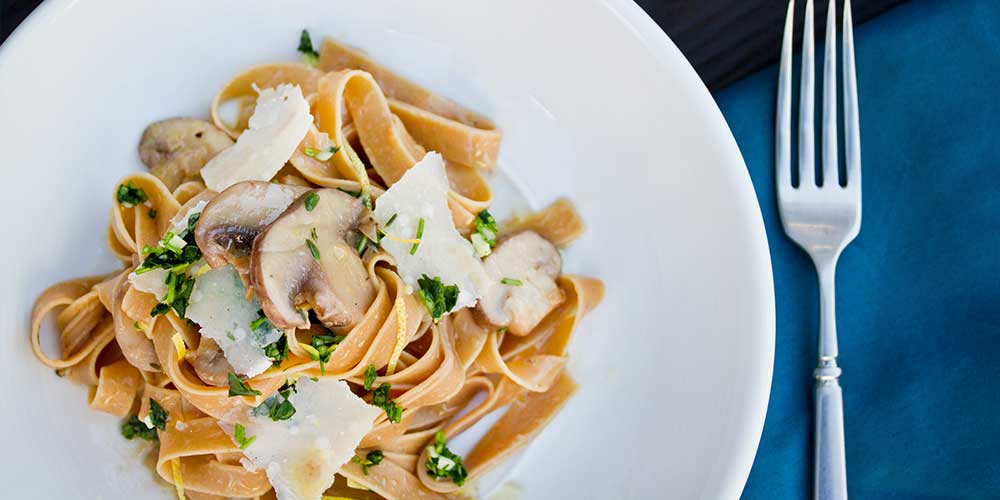 INGREDIENTS
1 stick Unsalted Butter

3/4lb Fresh Cremini Mushrooms, sliced (could substitute other fresh mushrooms)

2 tbsp Minced Shallots

1 pinch Fresh Thyme Leaves

½ cup White Wine

1 tbsp Extra Virgin Olive Oil

3 tbsp Minced Fresh Italian Parsley

Zest of 1 Lemon

1 clove of Garlic

2 pinches of Salt

Additional Salt & Pepper to Taste
DIRECTIONS
1
Make the Persillade: Finely mince together the parsley, lemon zest, garlic and two pinches of salt. Reserve.
2
Melt the butter in a frying pan. Once it is foaming, add the shallots, mushrooms, thyme, salt & pepper.
Saute
over medium heat until the mushrooms soften & give off their liquid.
3
Taste & add additional salt as necessary, add the extra virgin olive oil & white wine. Continue to cook until the mushrooms reach your desired texture.
4
Toss the sauce with cooked pasta. Serve the pasta & sauce topped with the persillade and parmesan to taste.