Integrale Rice Salad with Caramelized Mushrooms & Shallots
Integrale brown rice gives this salad a satisfying chew and nutty flavor that pairs well with the squash oil & caramelized wild mushrooms. Sherry vinegar, whole grain mustard, and fresh herbs are added for a bright, light, slightly spicy grain salad.
We paired it with a pan-seared grass-fed beef hanger steak, but you could serve it on its own or as a side dish for almost any seafood, poultry or meat.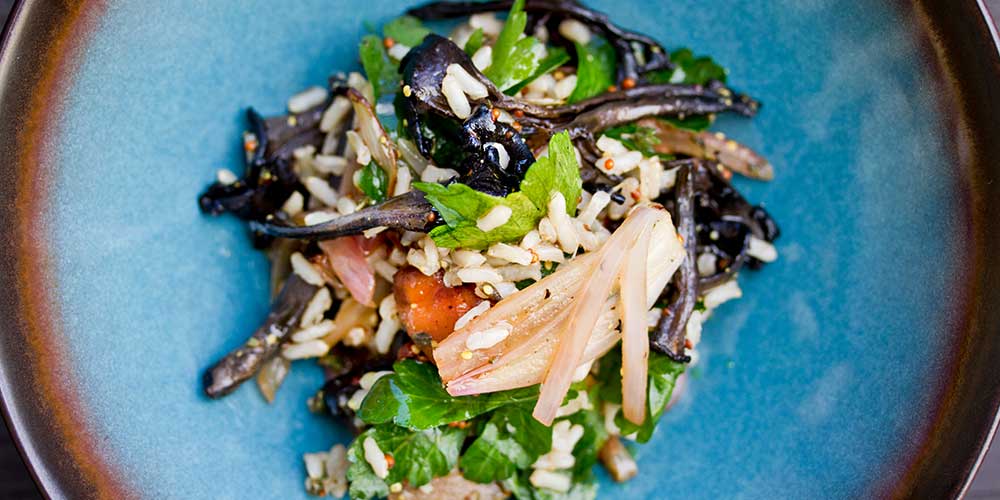 INGREDIENTS
1 ½ cups Integrale Rice (could substitute other brown rice)

1 lb Fresh Mushrooms (we used hedgehog mushrooms & black trumpets)

3 tbsp Unsalted Butter

5 tbsp Olive Oil

1 Large Shallot, thinly sliced

1 tbsp Whole Grain Mustard

2 tbsp Sherry Vinegar

1 tsp minced Fresh Rosemary

1 tsp minced Fresh Thyme

Leaves from ½ bunch of Flat Leaf Parsley

Kosher Salt

Black Pepper
DIRECTIONS
1
Cook the rice according to the instructions on the packaging. Drain of any residual water & let the rice cool completely.
2
Brown the mushrooms in a hot skillet or frying pan with a tablespoon each butter and olive oil.
3
Saute
the shallots separately in the the remaining two tablespoons of butter until browned.
4
In a separate bowl combine the mustard, rosemary, thyme, vinegar, a ½ teaspoon of salt, and a few twists of freshly ground black pepper.
5
Stir together the rice mixture and vinegar mixture. Stir in the parsley leaves, remaining four tablespoons of olive oil, a three-finger pinch of salt, and pepper to taste. Serve.