Mushroom Enchiladas Poblanos
Intensely savory, earthy, cheesy & meat free, these vegetarian enchiladas have enough depth of flavor that you won't miss the meat.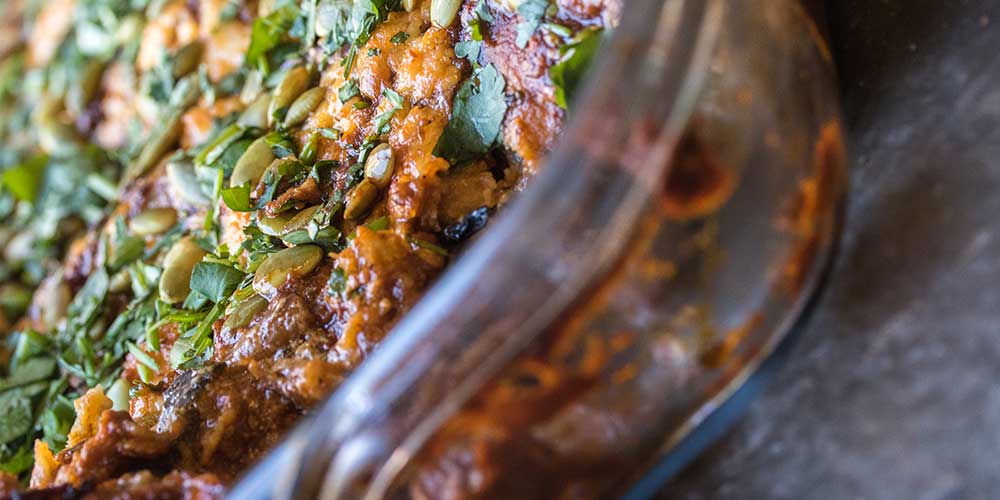 INGREDIENTS
Filling
1/2lb Oyster Mushrooms

2 tsp Oil

2 pinches Salt

3 Poblanos

2/3rds wheel Asadero Cheese, grated
Sauce:

½ Onion, coarsely chopped

1 tsp Canola Oil

2 tbsp Honey

½ cup Slivered Blanched Almonds

1 tbsp Umami Powder

2 tbsp White Distilled Vinegar

28oz can Roasted Tomatoes

32oz of Vegetable Stock

1 tbsp Salt

Juice of 1/2 Lime
Cheese Topping

1 wheel Cotija Cheese, grated

1/3 wheel Asadero Cheese, grated
Crema & Garnish:

½ cup Pepitas (shelled pumpkin seeds)

Chopped Cilantro

8oz Crème Fraiche

2 squeezes of Lemon Juice

1 pinch Salt

1 tbsp Ground Cumin
DIRECTIONS
1
Toast the chiles in a dry pan until aromatic. Remove them from the pan, then add the chopped onion to the pan along with a tsp of oil. Char the onions.
2
Cover the chiles with hot water, and let them rehydrate for 15-20 minutes.
3
Toast ½ cup sliced almonds in the pan when the onions come out.
4
Put the onion in the blender with the roasted tomatoes, toasted almonds, honey, umami powder, and two cups of the vegetable stock. Blend until pureed & combined.
5
Pour the mixture into a saucepot, add the rest of the vegetable stock, then simmer to reduce until it coats the back of a spoon. Add the salt and lime juice, taste, and add additional salt as necessary.
6
Broil the poblanos until blackened. Core, seed, peel & chop them.
7
Tear the oyster mushrooms into bite sized pieces & caramelize them (how to saute mushrooms) in two batches with the oil & salt.
8
Toss the poblano pieces with the other filling ingredients.
Stuff & Bake the Tortillas:
9
Preheat your oven to 350 degrees.
10
Briefly fry the tortillas in oil (not until crispy), then dip them in the sauce.
11
Put ¼-1/3 cup filling in each tortilla, roll it and pack it in a baking dish.
12
Once all the tortillas are filled, sprinkle them with the cheese topping.
13
Bake the enchiladas for 30-45 minutes.
14
Mix together the crème fraiche, cumin, salt and lemon juice.
15
Put the enchiladas on plates, then top them with the pepitas, cilantro, and crema.