Pinecone Bud Syrup & Apple Dutch Baby
Makes 4 Servings
WINE PAIRING
Mimosa
Dutch babies are a delightful breakfast treat with a texture that evokes both pancakes and popovers. They're eggy and fluffy and easy to make your own by modifying the fillings you put in the bottom of the skillet.
This one features sautéed apples coated with musky, herby, rich Italian pine cone bud syrup.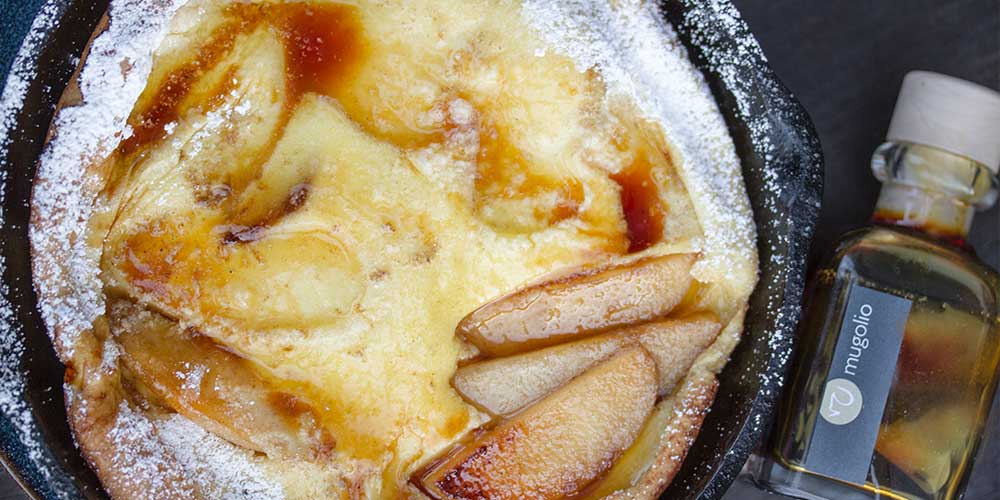 INGREDIENTS
Base Batter:

6 Eggs

1 tsp Salt

1 ½ cup Whole Milk

1 ½ cups All Purpose Flour
Bottom Mixture:

2 tbsp Pinecone Bud Syrup

2 Apples, sliced 1/3" thick (we used Honeycrisp apples)

2 tbsp Unsalted Butter

1 tsp Lemon Juice
1 tbsp Unsalted Butter

Powdered Sugar
DIRECTIONS
1
Preheat your oven to 400 degrees.
2
Whisk together all the batter ingredients to combine. Don't whisk until all the lumps are gone.
4
Preheat a cast iron skillet in the oven (we used a 7 1/2" skillet).
5
Melt the 2 tablespoons of butter in a separate frying pan over medium-high heat. Add the apples, the lemon juice, and the pine bud syrup. Cook until the apples are tender and lightly browned, but not mushy (about five minutes).
6
Swirl the tablespoon of butter around the bottom of the pre-heated skillet.
7
Put the apple mixture in the skillet and pour over the batter.
8
Return the skillet to the oven and bake until the dutch baby is well puffed (approx. 20-25 minutes). Do not open the door before 20 minutes.
9
Dust with powdered sugar & serve immediately.