Suzanne of A Pug in the Kitchen really does have pugs in her kitchen – two of them! They're pretty cute too…but we digress. Suzanne's blog is filled with a great mix of recipes for baked goods, desserts & treats, savory dishes and beverages. She shared her recipe for a fig and goat cheese tart with with us and we think it is stellar, check it out below! If you want more, take a look at the other delicious Mosto Cotto recipes on her blog!

I have been working on different recpes for the delicious Mosto Cotto Syrup that I received from Marx Foods. I was asked to do a guest post for their site and to come up with another original recipe.  I've already used it for Panna Cotta and as a glaze for baby back ribs. Each time I use this syrup I love it even more.
Figs are in season and I thought that steeping the fresh figs in Mosto Cotto would be delicious paired with a flaky pastry crust and tangy goat cheese. It is a lovely marriage of flavors. I made the steeping syrup from Mosto Cotto Syrup, orange rind, peppercorns and some sugar. I didn't poach the figs because I wanted them to retain their shape and texture.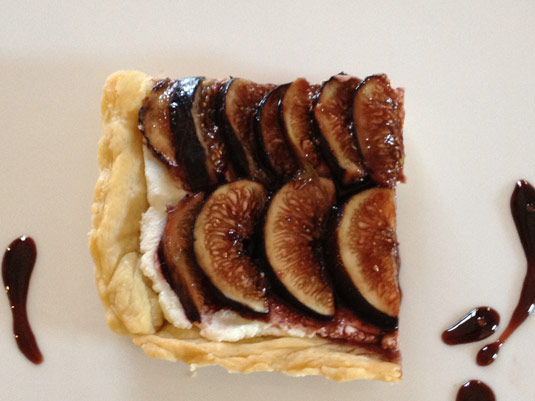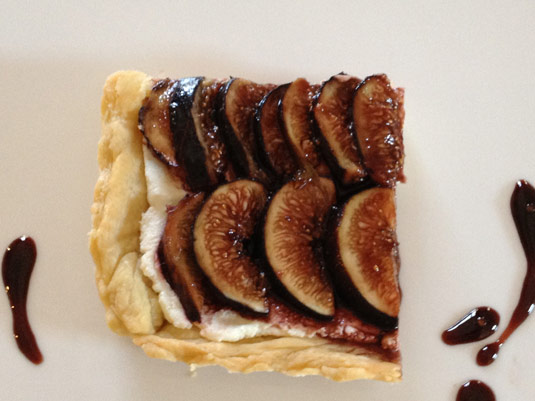 This is a wonderful slightly sweet dessert or even a light lunch, just add a piece of Prosciutto di Parma. The syrup is amazing, the figs combined with Mosto Cotto and subtly flavored with orange and pepper is wonderful. It reduces beautifully to yield a thick, very complex syrup.
NOTE: If you don't want to use goat cheese you can use ricotta, if you do, drain the ricotta in a cheese cloth to remove any excess liquid or whey.
1 lb fresh ripe figs (6-7 figs)
1/2 cup mosto cotto
1/2 cup sugar
2 strips (approx 2 inches wide) orange skin- careful not to include the pith
3 whole black peppercorns
1 tbs cointreau
Bring mosto cotto, sugar, orange rind, peppercorns and cointreau to a boil, reduce heat and simmer for 10 minutes. While it's simmering slice the figs in half and place in heat proof bowl. Pour the hot syrup over the figs and cover. Let sit until it reaches room temperature.
10.5 oz soft goat cheese (chevre) at room temperature
1 heaping tbs honey (I used peach blossom)
Favorite pie dough, tart crust recipe. (You could also use puff pastry for this)
Blind bake your pie dough, I like to use a rectangular shape for this tart, either use a fluted rectangular tart pan or a small 1/2 sheet pan. Pre heat oven to 375 degrees. Roll out your dough to fit into the tin, prick with fort multiple times, (chill in refrigerator at least 20 minutes before baking) place a piece of parchment on top and add pie weights or beans.
Bake for 15-20 minutes, remove parchment and weights and bake again for another 15-20 minutes until golden brown. Remove from oven and cool. While the pie crust is cooling slice the figs into thin slices approximately 1/4 inch thick, set aside. Pour the remaining syrup into sauce pan, removing peppercorns and orange zest and bring to a boil, reduce heat to medium and reduce by 1/2 (It takes about 10 minutes) or until syrup thickens.  Let cool.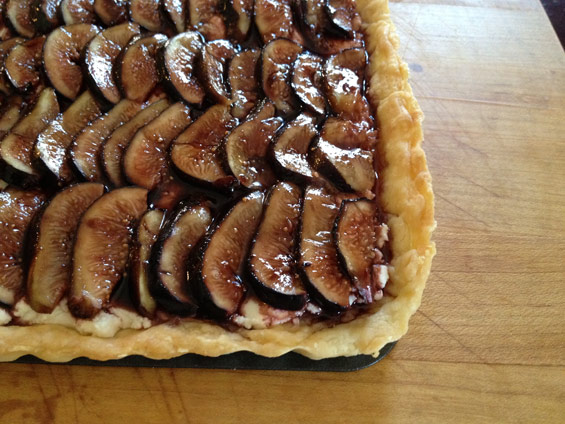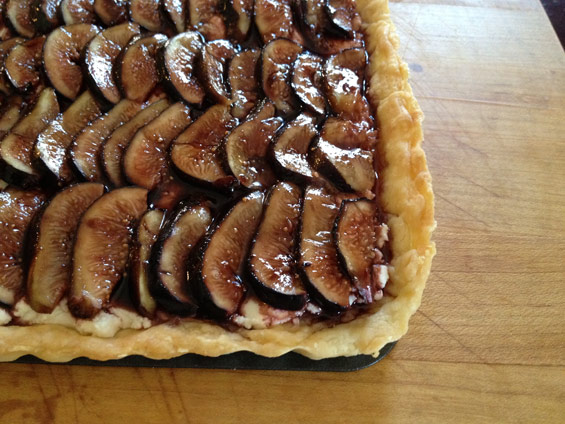 Place goat cheese in mixing bowl add honey and whip until fluffy.
Smooth onto tart, arrange figs on top and brush some of the reduced mosto cotto syrup over the fruit. Serve as is or it's delicious to lay a slice of prosciutto di parma on top.
Browse More:
Mosto Cotto Recipes