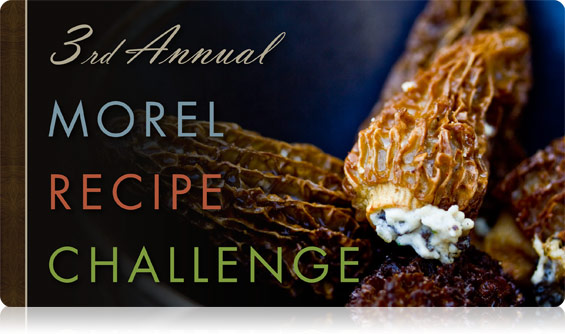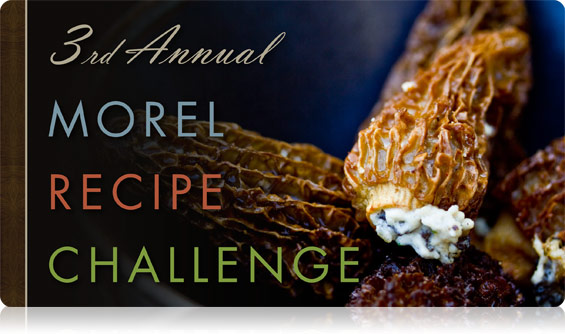 These bloggers slaved away over hot ovens, stoves, and other cooking apparatuses to bring you a collection of new morel hors d'oeuvre recipes. Here are their creations!
All of the below recipes were made with dried morel mushrooms, but could be adapted to use fresh morels (most will likely work with frozen morels too). Because this was a recipe challenge, there needed to be goodies at the end: three lucky bloggers received 2lbs of fresh morel mushrooms each! Here's how:
One blogger was picked by a challenger vote and was deemed the 3rd Annual Morel Recipe Challenge Champion
The Champion selected a second challenger of their choice
A third blogger (surprise!) was picked via a reader poll
Check out all of the amazing morel recipes submitted below:
The Well-Lived Life – Wild Edibles Three Ways
The Smart Kitchen – Mush-a-mara!
Poor Girl Eats Well – Morels & Spring Vegetables in Fillo "Flower Pots"
My Year on the Grill – Morel Mushrooms Creamed Spinach
Mango & Tomato – Mushroom Potato & Pea Potstickers
Making Food And Other Stuff – "Cheese" Stuffed Morels
Frugal Antics of a Harried Homemaker – Curried Morel Shortbread with Morel Chutney Cheese
Food For Thought (Kirsten) – Morel Mushroom and Goat Cheese Fried Raviolis
Foodie Wannabe – Morel Mushroom & Black Forest Ham Crème on Toast
Food For Thought (Dana) – Morel Mushroom and Brie Tart
Eat Love and Train – Morel Mini Kabobs
Cookistry – Morel Frittata Bites
Clearly Delicious – Rustic Morel Party Tart
Chow Bella – Piccole Torta Pasqualina con Morels (Mini Easter Pies w/ Morels)
Chez What? – Morel Mushroom Mousse in a Puff Pastry Cup
Big Apple Nosh – Morel Lollipops with Garlic Truffle Aioli
Adesina's Kitchen – Mini Beef Wellington w/ Morel Bearnaise & Melted Leeks
Note: A couple of the above recipes do not cook the morels after reconstituting.  We recommend cooking morels before consumption for safety.