Mexican-Inspired Gazpacho with Herbs, Chilies & Avocado
Light, bright and refreshing, this cold soup has a mélange of flavors and textures that'll keep your mouth intrigued until the bowl is empty. Perfect for a hot summer's day!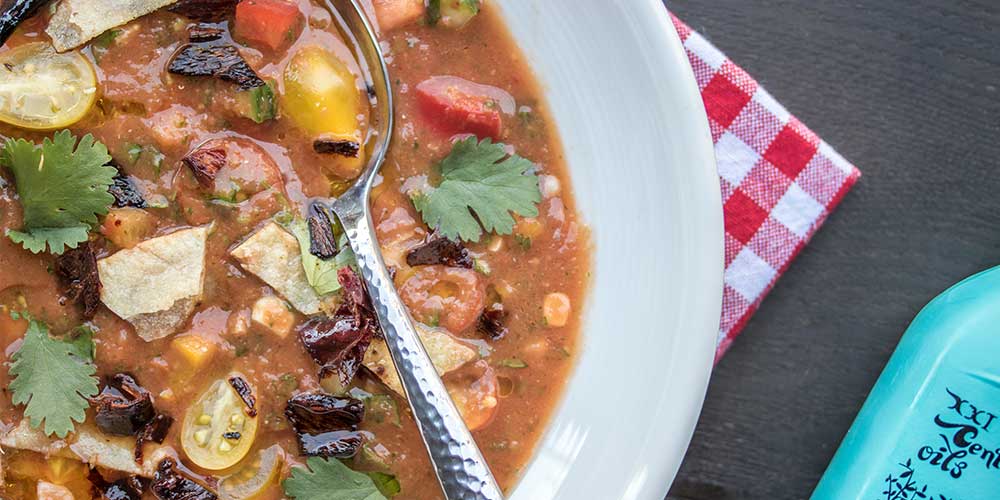 INGREDIENTS
1 container Spicy Heirloom Tomato Juice

1 bottle Knudsen Very Veggie Juice

1 ear of Yellow Corn, husked

1 cup small diced Cucumber, peel on, seeded

1 Avocado, peeled, pitted & small diced

2 tbsp Smoked Olive Oil, plus extra for garnish

1 1/2 tsp Kosher Salt

4 Tortillas

½ bunch Cilantro, stems & leaves

¼ cup Basil Leaves

1 cup Cherry (or Pear) Tomatoes, halved

1 Red Pepper, cored, deseeded & small diced

1 Yellow Pepper, cored, deseeded & small diced

1 tsp Portland Red Fresno Pepper Sauce

Juice of ½ Lime, plus more to taste

Additional Cilantro Leaves for garnish
DIRECTIONS
1
Lightly char the ear of corn in a dry skillet, turning to mark each side.
2
Once the corn has lightly charred, move it from the pan and toast the tortillas in its place, flipping once, until browned on both sides.
3
Tear the guajillo chilies into pieces, discarding the stems & seeds.
4
Fry the tortillas in a shallow layer of oil in a deep pan until crispy. Remove the tortillas from the oil and fry the chile pieces until crispy.
5
Cut the corn kernels off the cob.
6
Combine the cucumber, Very Veggie juice, spicy tomato juice, avocado, tomatoes, peppers, 2 tbsp of the smoked olive oil, salt & corn kernels in a large bowl.
7
Milk the corn cob into the bowl by scraping down along its length with a spoon so that all the clinging bits of corn and kernel innards end up in the bowl.
8
Finely chop the cilantro and basil, then add it to the soup.
9
Puree three cups of the soup in a blender, reserving the rest as-is.
10
Mix the pureed and not-pureed soup together
11
Taste and add additional salt & lime as necessary. Pour into bowls.
12
Cut the tortillas into strips, & chop the guajillos into small pieces. Use them to garnish the soup along with some extra cilantro leaves.  Drizzle with additional smoked olive oil.