Lamb Racks with an Adobo-Inspired Gastrique
This recipe takes the sweet, tangy, umami-rich flavors of the classic Filipino braised dish as its inspiration, using them first as a marinade, then in a gastrique sauce for the finished racks.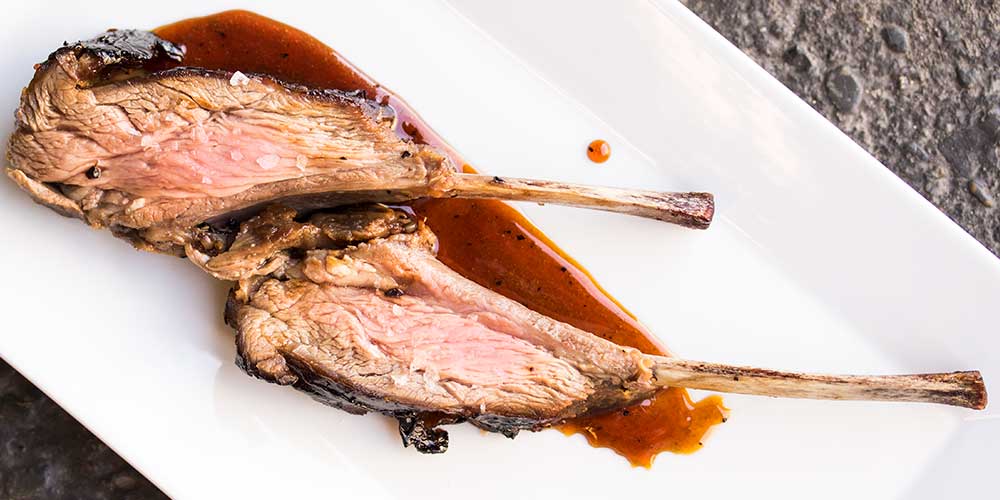 INGREDIENTS
3/4 cup Honey Wine Vinegar

1 tbsp Tamari Soy Sauce

1 tbsp Red Boat Fish Sauce

8 cloves Garlic, peeled and crushed

1 tsp whole Black Peppercorns, crushed with a skillet

1 Bay Leaf

1/4 cup Honey

1-2 tbsp Neutral High Heat Oil

Squeeze of Lemon Juice
Recommended Sides:
White Rice, Green Salad
DIRECTIONS
1
Place the racks, vinegar, tamari, 1 tbsp of the fish sauce, and then garlic, peppercorns, and bay leaf in a zip-top bag and squeeze the air out as you seal it. Keep in the refrigerator overnight, or for at least 8 hours.
2
Carefully pour the marinade out of the bag, through a strainer, reserving the liquid and discarding the aromatics caught by the strainer.
3
Heat the oil in a cast iron skillet over medium-high to high heat. Sear the lamb racks on both sides, at least 3 minutes per side. Reduce the heat and continue to cook until the internal temperature reaches 125°F.
4
Set the rack aside to rest, tented with foil, for 15 minutes.
5
Heat the honey in a small saucepan over medium-low heat, until it becomes noticeably darker. Add the strained marinade, stirring or swirling the pan to incorporate the two. Continue to cook, stirring or swirling consistently, until the sauce has thickened to the consistency of maple syrup. Add the lemon juice.
6
Serve with the sauce drizzled over each lamb rack.