Lamb Medallions with a Hibiscus Gastrique, Fried Blossoms & Sumac Dust
Featuring a sweet, deep, bright hibiscus gastrique and a sour/salty/citrusy sumac dust, this dish is another example of the broader range of flavor profiles possible with lamb.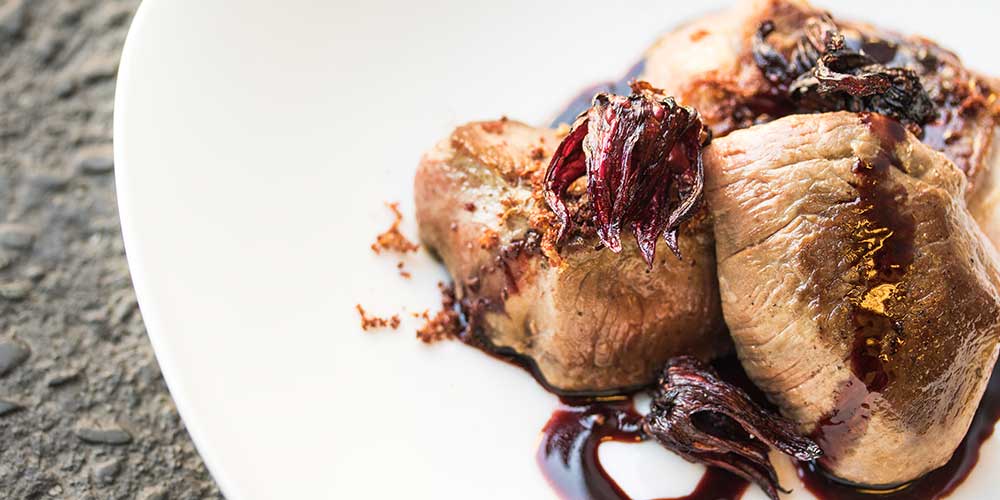 INGREDIENTS
1 lb. Lamb Medallions
1 ounce Dried Hibiscus Flowers

2 cups Hot Water

1 tbsp Honey

4 tbsp Piloncillo or Brown Sugar, divided

1 tbsp Sherry Vinegar

1 tbsp Sumac

1 tsp Salt

Zest of 1 Lemon

A squeeze of Lemon Juice

Salt and pepper

1 tbsp + 1.5-2 cups neutral high heat oil
DIRECTIONS
1
Leave for 15-20 minutes to fully infuse the flavor. Strain the liquid into a small saucepan, reserving the flowers.
2
Pat the flowers dry with paper towels (carefully – their intense color leaves stains!), and spread them out to dry further.
3
To make the gastrique, add the honey, 2 tbsp of the piloncillo/brown sugar, and vinegar to the hibiscus liquid, and bring to a boil over medium high heat. Lower the heat and reduce until it reaches the consistency of maple syrup. Set aside on a warm part of the stove.
4
In a dry and clean coffee or spice grinder, combine the sumac, salt, remaining piloncillo/brown sugar, lemon juice and zest. Pulse to a very fine crumbly mix. Set aside.
5
Pat the medallions dry and season them lightly with salt and pepper. Heat 1 tbsp of neutral high heat oil in a large cast iron skillet. When quite hot, sear the medallions, approx. 3 minutes per side, until medium rare. Set aside to rest, tented with foil, for 7-10 minutes.
6
Heat the high-heat oil in a small saucepan until it reaches 350-375°F. Deep fry the dry hibiscus flowers a big spoonful at a time until they are dark purple but not black, around 30 seconds. Scatter on a paper towel to drain and sprinkle right away with a light dusting of salt.
7
To plate, pour a nice glossy pool of the hibiscus gastrique on each plate. Shingle 3-4 lamb medallions onto the gastrique, and scatter with fried hibiscus blossoms and a line of sumac seasoning.