Roasted Leg of Lamb w/ Herb & Almond Pesto
WINE PAIRING
Cabernet Franc
Here we've paired lamb with a bright pesto made from almonds, herbs and citrus.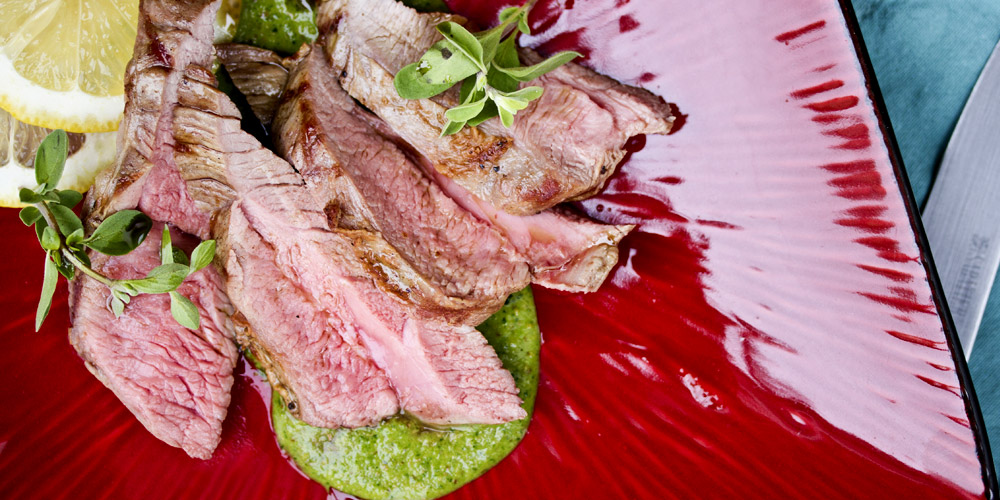 INGREDIENTS
Fresh Oregano for Garnish

Lemon Disks for Garnish

Roasted Pumpkin Seed Oil

Salt & Pepper to Taste
Herb & Almond Pesto

1/3rd cup Almonds, toasted

1 cup (packed) Fresh Parsley Leaves

1 tsp chopped Fresh Marjoram Leaves

1 tbsp Lemon Juice

6 tbsp Orange Juice

3 tbsp Roasted Pumpkin Seed Oil

3 tbsp Canola Oil

½ tsp Sea Salt
DIRECTIONS
1
Preheat your oven to 350˚F.
2
Butterfly the leg of lamb (cut horizontally down the middle without cutting all the way through, then open it up like a book).
Trim out any silver skin (how to remove silver skin) & season the meat with salt & pepper.
3
Get an oiled, oven safe frying pan, grill pan, or cast iron skillet hot on the stove and sear the leg meat over medium-high heat.
4
Once the bottom side has developed a nice brown crust, flip it over and move the pan to the oven to roast.
5
Roast the lamb until it reaches an internal temperature of 110˚F (for medium rare). Remove it from the oven and let it rest (loosely covered with foil) for 15 minutes.
6
Make the Pesto: Combine all the pesto ingredients in a blender. Blend to combine with as much water as needed for the blender to mix properly (we used a few tablespoons).
7
Slice the lamb and serve it atop the pesto.
8
Garnish with lemon disks and oregano leaves. Finish with a drizzle of pumpkin seed oil. Serve.